Efforts to restore air cargo capacity made little progress in August as the market remained hamstrung by grounded passenger fleets, new IATA figures reveal.
Data from the association shows that global cargo capacity as measured by available cargo tonne-kilometres shrank by 29.4% in August, year on year. July had shown a 31.8% drop.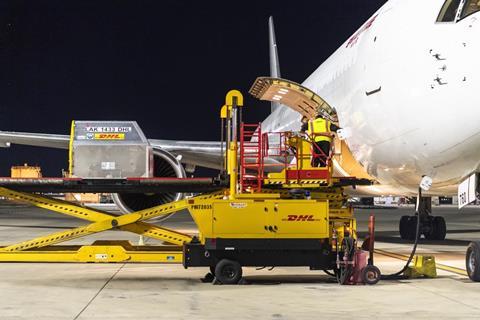 Global demand as measured by cargo tonne-kilometres, was down 12.6% last month, a slight improvement on July's 14.4% fall.
However, IATA warns that demand is weaker than should be given that other indications of economic growth have rebounded strongly in recent months.
"The issue is a shortage of capacity," says the association's chief economist Brian Pearce. Typically, around half of air cargo volumes are placed in passenger aircraft bellies. Widebody aircraft carry particularly high levels of cargo, but have seen the greatest declines in utilisation.
In total, belly capacity for international air cargo was down 67% in August, although this was partially offset by a 28.1% increase in freighter capacity. Dedicated freighters are being used "as intensely as possible", Pearce notes, with utilisation rates hitting "a record" 11h per day.
Pearce adds that air freight is critical to the smooth operation of global supply chains, and will be essential to ensure the future distribution of a Covid-19 vaccine.
IATA has released separate data showing that passenger demand stalled in late summer as coronavirus cases surged higher. This is likely to have a corresponding impact on belly capacity. The association has worsened its full-year forecast for passenger traffic to a decline of 66%, from 63% previously.
"Air cargo demand improved by 1.8 percentage points in August compared to July," states IATA director general Alexandre de Juniac. "That's still down 12.6% on previous year levels and well below the 5.1% improvement in the manufacturing PMI. Improvement is being stalled by capacity constraints as large parts of the passenger fleet, which normally carries 50% of all cargo, remain grounded."
He adds: "The peak season for air cargo will start in the coming weeks, but with severe capacity constraints shippers may look to alternatives such as ocean and rail to keep the global economy moving."