Airlines are continuing to benefit from high demand for air cargo and healthy yields, according to industry association IATA, but rising consumer and producer prices could eventually weigh on growth.
Outlining another month of strong air cargo performance in September 2021, IATA notes on 3 November that supply-chain congestion around the world is still a largely positive trend for airlines in demand terms, as businesses with low inventory-to-sales ratios seek faster transportation methods.
IATA also states that despite already-high air cargo fares trending upwards in recent weeks, they remain historically favourable versus shipping costs.
"In September, it was on average three times more expensive to send a kilogram of chargeable weight using air compared to ocean, compared to 12.5 times more prior to the crisis," IATA states.
The biggest constraint on airlines meeting demand is likely to be a lack of capacity – particularly in bellyholds, as parts of the passenger fleet remain grounded, the airline body says.
But while airlines enjoy high traffic and record freight load factors, of concern regarding future trends is the "strong increase in prices, both for businesses and consumers" in the wider economy, which could eventually put the brakes on demand, IATA says.
The association highlights input costs paid by producers in August, which saw the largest increase since records began in 1983, at 10.8% year on year. Moreover, consumer price inflation for all goods was at 4.3% in September, the biggest rise since 2008.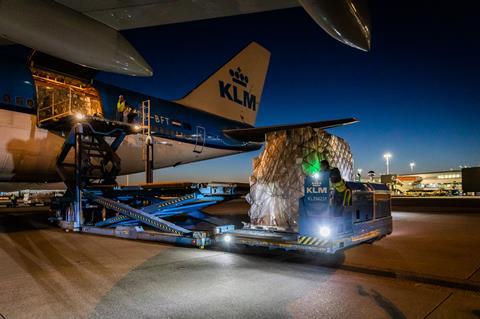 While purchasing managers index data has still been positive, "the pace has slowed, and the peak of the recovery has passed", according to IATA.
Ultimately, this "tangled situation" means that while "air cargo benefits from its speed and relative affordability, which will allow it to continue to over-perform overall goods trade", growth could weaken "if global demand falls significantly", it says.
IATA's latest data shows that in September this year, global air freight demand measured in cargo tonne kilometres was up 9.1% compared with September 2019, with capacity 8.9% below pre-Covid levels.