Elevated demand for dedicated air cargo services will persist for several years until there is a meaningful return of passenger services, according to leading figures in the air cargo industry.
Even with the rollout of vaccines "this [market] will continue for the foreseeable future", Martin Drew, Etihad's vice president for sales and cargo said during the World Cargo Summit 2021 on 26 January.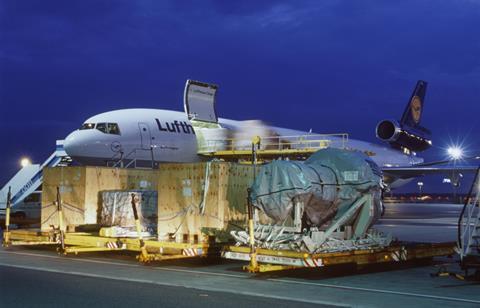 Drew says the carrier's cargo unit has had "a record year in revenue teams" for 2020 and is expecting "a similar number this year".
Steven Polmers, chairman of The International Air Cargo Association, notes that a return of passenger belly capacity will "take a little longer that we hope or than we would like". The benefit to air cargo is not only firmer rates but that "we can continue to use passenger aircraft for cargo only ops, that will help us keep a certain network in place to meet global demand."
Lufthansa Cargo chief executive Peter Gerber believes that the recovery will be "much slower than we [previously] expected." Passenger airlines had been eyeing a post-first quarter "spring peak", but "this is not going to happen. Lockdowns are still in place and are even more serious than they used to be".
Once vaccination programmes are accelerated and improved weather results in lower Covid-19 numbers, "then I would expect with the end of the second quarter we will see some recovery" Gerber says. However he is only expecting a return to around 50% of 2019's passenger traffic levels for the year.
Of course while this is bad news for passenger airlines, he notes it "will be challenging but very profitable year for the air cargo industry".
Their comments underline that while revenues have risen for cargo carriers, so have the complexities of operating their networks.
Gerber cites the difficulties of operating its entire fleet and network throughout the crisis, maintaining its connections to China, for example, "even in the most difficult days" of the crisis.
Etihad's Drew notes that having cancelled all of its passenger operations in March, the carrier quickly redeployed six passenger aircraft for freight operations as it sought to capture additional revenue.
In addition to Etihad's five Boeing 777 freighters, the carrier is using passenger 787s and 777s for purely cargo flights, including five passenger 777s with removed seats for extra capacity.
The carrier's 777 freighters are being flown "very hard" adds Drew, averaging 16.5 hours per day, with Etihad looking to raise this even further.
Although freight providers benefit from higher rates, Polmers underlines that that much of the wider air cargo network is suffering.
Handlers, for example, reply on volumes instead of yields, with the overall reduction in throughput placing them under financial stress. Similarly many airports are being financially devastated by the loss of passenger traffic, with raised cargo rates having little impact on their earnings.
The panel also touched on the changes coming from digitalisation, with Drew commenting that "the pandemic has forced our hand somewhat", encouraging a trend towards more direct bookings on aircraft.
Improved air freight services will largely rely upon the digitalisation of ground-based processes, notes Gerber. "In times of extensive cross border commerce… it is simply not conceivable that some data errors only become apparent on a paper manifest during a physical check and then lead to an offload," he says.
Full digitalisation will enable faster, more reliable transport operations, with better outcomes for customers and reduced costs. "I really believe this will make a big step forward after the pandemic", Gerber believes.