Air China is in talks to acquire a controlling stake in Shandong Airlines' parent company.
In a stock exchange filing on 30 May, the Beijing-based carrier says it "is planning to acquire the control" of Shandong Aviation Group, which will allow it to gain control of Shandong Airlines.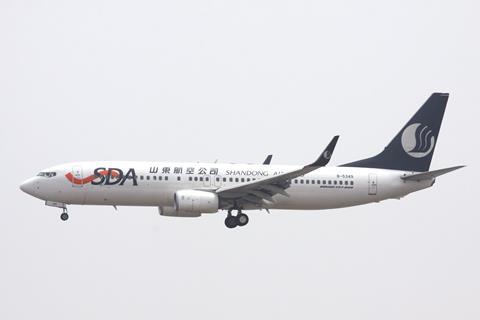 Air China holds a 49.4% shareholding in Shandong Aviation, as well as a 22.8% stake in Shandong Airlines.
The carrier says: "The transaction is currently at negotiation stage and no due diligence, audit, valuation and other related works have been completed. The company and the counterparties have not yet signed any transaction agreement in relation to the transaction and the specific proposal of the transaction is still under planning."
No reason was given for the proposed acquisition, though Air China says it does not intend to issue shares to purchase assets, nor will the transaction "constitute a change" in its own shareholding.
"There is significant uncertainty as to whether the parties to the transaction will ultimately reach an agreement on the transaction and sign the relevant agreement," the carrier states.
Apart from Air China, Shandong Airlines is 42% owned by Shandong Aviation, with the remaining 35.2% publicly traded.
Shandong Airlines counts Air China as a key codeshare partner, with the airline adding its code on over 600 routes, Cirium data shows.
The Jinan-based carrier has a fleet of 124 in-service aircraft, comprising 121 Boeing 737-800s and three -700s.