Air China is to complete its acquisition of Shandong Airlines' parent company following an equity transfer and capital injection, a move it says will "enhance its overall profitability" and better capture domestic market share.
The Beijing-based carrier on 30 December 2022 entered into an equity transfer agreement with two of Shandong Aviation's shareholders, Shansteel Financial Holdings and Qingdao Qifa, to acquire their respective stakes of 1.4% and 0.9%.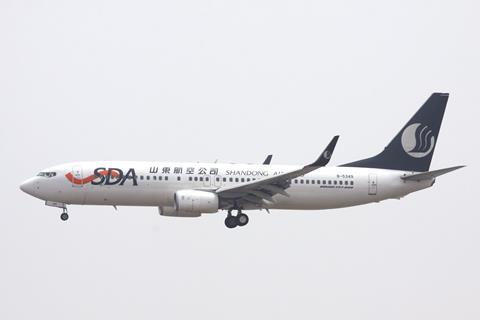 The equity transfer is valued at around CNY32.9 million ($4.8 million), according to a stock exchange filing from Air China.
At the same time, Air China, along with Shandong Finance and construction firm Shandong Hi-Speed, will jointly make a CNY10 billion capital increase in Shandong Aviation.
The move will see Air China increase its stake in Shandong Aviation from the present 49.4% to 66%, resulting in the latter becoming an Air China subsidiary.
Jinan-based Shandong Airlines is 42% owned by Shandong Aviation, with Air China owning close to 23% and the remaining 35% or so publicly traded.
In brief remarks explaining why it undertook the acquisition, Air China states: "After the company takes control of Shandong Aviation…and Shandong Airlines, the company will be able to enhance its overall profitability by further strengthening market layout and deepening its cooperation with Shandong Aviation."
Air China first disclosed plans to become a controlling shareholder of Shandong Aviation in late-May 2022, where it said it was in talks, but had not yet arrived at a decision.
Shandong Airlines is a key codeshare partner of Air China, according to Cirium data. The carrier is a prolific operator of Boeing 737s, with over 120 -700s and -800s in service.