Air Europa remains confident that IAG can close its acquisition of the company within the agreed timeframe, but the Spanish carrier could continue to operate should the deal fail to complete, its aircraft fleet manager Xisca Mateu Brunet has indicated.
During a panel session at the ISTAT EMEA conference in Edinburgh on 5 October, Brunet said that Air Europa remained "optimistic" that its acquisition by IAG could be completed within the 12 to 24 month timeframe agreed when the tie-up was announced in November 2019.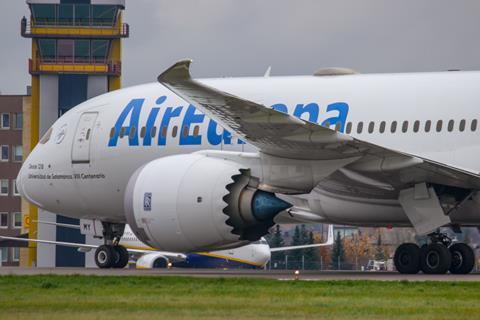 While the pandemic has complicated and delayed the process, she says that, based on the latest developments, the deal should be completed no later than the beginning of December, subject to EU approval.
"We are optimistic. We see that there is a lot of work both parties to make that happen. Obviously the EU has the last say on that," she says.
But should something happen that curtails the deal, Brunet says the Madrid-based carrier could continue operations.
"What would happen if IAG doesn't succeed? Well, we think that we are able to continue, that we are capable to continue in the market," she says.
Such an outcome would force Air Europa to rethink its fleet programme and its phase-out and delivery timetable. Some aircraft orders deliveries might need to be delayed and the carrier would also require some support, Brunet says.
"Probably there is going to be a gap in time between an airplane phase-out and we take delivery of new airplanes," she says. "I think it's going to be a combination of help from suppliers."
Cirium fleets data shows that Air Europa has 20 Boeing 737 Max 8s and six 787-9s on order.
IAG agreed to pay €1 billion ($1.2 billion) for Air Europa in November 2019. The price was subsequently slashed to €500 million following the onset of the pandemic.
In February, IAG chief executive Luis Gallego said he expected completion of the group's planned acquisition of Spanish carrier Air Europe to be nearer to year-end.
In June, the European Commission opened an investigation into the proposed combination of the two carriers.
Brunet says Air Europa was able to secure government financial support amid the pandemic not just because of the planned combination with IAG, but rather because it had been profitable, it qualified as an "essential" company for Spain and because it had a plan
"I wouldn't say that the Spanish government provided the assistance to Air Europa just because of IAG," she notes.