Air France-KLM has not ruled out participating in consolidation of the Italian market, despite conditions relating to the company's Covid-19 state aid putting a block on acquisition moves.
"Of course we look at it very closely with our partners," Air France-KLM chief executive Ben Smith said of the Italian market during an earnings briefing today. "We have other means of participating in equity consolidation which may not involve direct investments on our part. We do have many, many partners who could help us… if we feel that it could marginalise our operations [if we do not act]."
His comments follow news in January that German carrier Lufthansa and shipping firm MSC Group had jointly submitted an expression of interest to acquire the majority of new Italian national carrier ITA Airways, which launched operations in succession to Alitalia in October last year.
Smith highlights Milan Linate airport – which was Alitalia's second hub after Rome Fiumincino – as "one of the most important and lucrative assets that we've had limitations in accessing".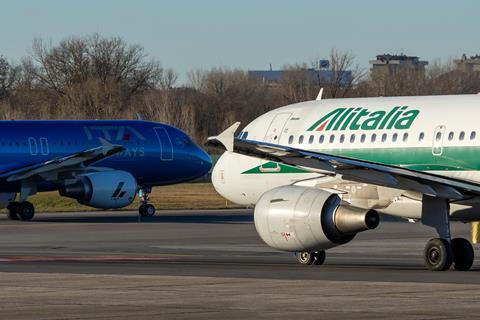 Helpfully, Air France-KLM "has managed to secure additional slots at no cost over the last year" at the airport, and is "hopeful in the near future additional slots will become available through either remedies or reduction in activity by the new or evolved Alitalia".
"So that helps," Smith says, in terms of the group securing a stronger position at the facility without participating in consolidation.
"The number one advantage for us is Milan Linate airport," he states
But he further notes that "consolidation or taking a risk on having a great position" in Italy is not new to airlines in the Air France-KLM group.
"We've had two attempts at taking an equity position in the former Alitalia, both have not been successful," he recalls. "So to do it a third time, when and if we have the flexibility to do so, would be a much more risk-comfortable zone.".
Beyond Milan Linate, the rest of Italy is "strategically important" to Air France-KLM, Smith says, "but it's not number one on our list and I wouldn't say we'd lose sleep over if we can't participate".
Under the terms of Air France's €4 billion ($4.5 billion) in French government aid, "until at least 75% of the recapitalisation is redeemed, Air France and its holding company are in principle prevented from acquiring a stake of more than 10% in competitors or other operators in the same line of business".
KLM's €3.4 billion in state aid measures from the Dutch government also included conditions that prevent acquisition moves.
The group said today that it was aiming to repay the aid as quickly as possible, Lufthansa having completed the repayment of its Covid-related state aid in November last year.
Air France-KLM's SkyTeam alliance partners include Delta Air Lines, which has been the subject of rumours that it was interested in taking a stake in ITA Airways.