Air France-KLM Group, along with its individual carriers, has reached agreements to secure credit lines worth €2.2 billion ($2.4 billion), which will be tied to the company's decarbonisation strategy.
In a joint borrowing with Air France, the group has signed for a €1.2 billion revolving credit facility – which initially matures in 2026 – with a syndicate of 15 international banks.
The facility is "sustainability-linked", says the company, and includes two one-year extension options.
KLM has separately secured a new €1 billion credit facility with a syndicate of 14 banks, replacing a credit facility guaranteed by the Dutch government put in place during pandemic.
The Dutch state provided KLM access to €3.4 billion in funding during the crisis, comprising a direct loan of €1 billion and a 90% guarantee on a €2.4 billion credit facility.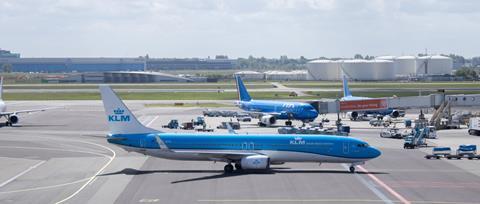 KLM had repaid €942 million of funding drawn in 2020 and says the new loan means it is closing, as of 17 April, the direct loan and credit facility guaranteed by the Dutch government.
Conditions governing the financial support package no longer apply, as a result. These conditions put certain restrictions on the business that made some activities – such as acquisitions – more difficult.
KLM chief financial officer Erik Swelheim says: "We're able to take this step thanks to KLM's strong cash position and the good prospects facing the airline industry. I'm pleased the banks involved share the confidence we have in KLM's future. In so doing, we are now leaving the coronavirus crisis behind us"
The new credit facility is linked to objectives regarding sustainability and social responsibility, under which the interest margin will be reduced once targets have been reached.
KLM chief executive Marjan Rintel says: "Our focus remains on meeting our sustainability targets and staying financially healthy through achieving structural cost savings. This will not change and it is the only way for us to continue connecting our customers who want to travel the world."
Environmental key performance indicators are "embedded" in the finance costs for both Air France-KLM Group facilities, the company states.
"These indicators are in line with Air France-KLM and the two airlines' commitment to sustainable development and a gradual decarbonisation of activities," it adds.