The new lockdown imposed by the French government amid rising cases of coronavirus across Europe will weigh on Air France-KLM's performance through the fourth quarter of this year.
"We expect a challenging fourth quarter of 2020, with current forward bookings sharply down compared to last year," group chief executive Ben Smith says on a third-quarter earnings call today.
Air France's capacity for the fourth quarter is likely to be less than 35% of 2019 levels, with KLM's at around 45%, compared with 36% and 50% respectively during the third quarter.
The group expects "negative load factor developments for the fourth quarter of 2020, particularly on the long-haul network, and negative yield mix effects due to a delayed recovery in business traffic".
These capacity figures are still ahead of those planned by the group's European peers, IAG and Lufthansa, with Smith attributing this to Air France's "rather large" domestic market and the size of the French overseas territories.
Strong cargo demand is helping to keep KLM's capacity higher, Smith explains.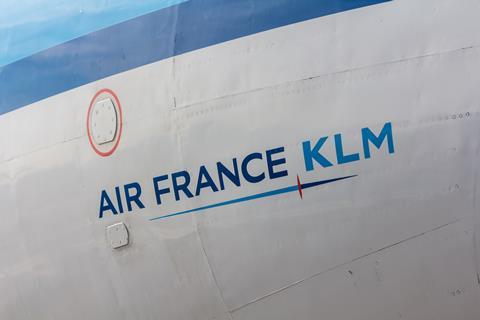 For both airlines, government employment support schemes are enabling them to maintain higher workforce levels than would otherwise be possible, Smith adds.
Nevertheless, the fresh lockdowns mean the group is expecting a "substantially lower EBITDA compared to Q3 2020".
For the third quarter, Air France-KLM today reported an EBITDA loss of €442 million ($516 million), alongside an operating loss of €1.05 billion.
Revenue was down 67% at €2.52 billion, while it recorded a net loss of €1.67 billion, including a restructuring charge of €565 million and a fleet impairment charge of €31 million.
The depressed revenue picture was largely consistent across the group's network airlines, low-cost unit Transavia and its maintenance operation.
Air France-KLM had been "pleasantly surprised" by the strength of leisure demand in first half of the third quarter, according to Smith, but business travel was more depressed than expected.
Across all passenger markets, the "expected traffic recovery" was disrupted by stricter travel restrictions in the second half of the quarter.
Cargo was a rare bright spot, with revenues up 32% to €676 million. That failed to offset a 77% revenue drop in network passenger operations to €1.32 billion.
"The group's strategy was to only operate incremental cash positive flights and several routes were taking advantage of the strong worldwide cargo demand while having few passenger on board," it states.
Air France-KLM confirms that it is continuing to implement restructuring plans aimed at cutting costs across its units.
It ended the third quarter with €12.4 billion in "cash at hand" – a reduction of €1.8 billion compared with the end of the previous quarter.
Smith declines to comment on capacity expectations going into 2021, citing the significant uncertainties caused by the coronavirus crisis.