Air France-KLM saw the first indications of a significant recovery in passenger demand during the second quarter, with momentum continuing into July.
Reporting its latest financial results today, the European group notes that it expects EBITDA to be positive in the third quarter but cautions that the outlook for the final three months of the year is unclear, partly due to uncertainty concerning the full reopening of key North Atlantic routes.
"Thanks to the easing of travel restrictions in several key regions, the second quarter of 2021 saw the first signs of the long-awaited recovery," says Air France-KLM chief executive Ben Smith. "Reciprocity of borders reopening and the acceleration of the vaccination roll-out worldwide, especially in the context of the rise of the Delta variant, will play a key role in maintaining this momentum."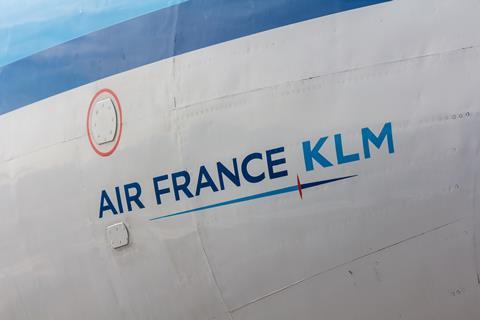 Much hinges on the USA opening its borders to European visitors, with Smith suggesting this might happen once the current wave of Covid-19 infections peaks.
Nevertheless, group chief financial officer Steven Zaat notes that Air France-KLM's operations have turned cash-flow positive for the first time in the crisis, as many European countries begin to welcome non-essential travellers again.
He also cites a "high level of cash at hand" – €9.4 billion ($11.2 billion) at end-June – adding that "we are on the right track to reduce our net debt to more sustainable levels".
Of the two network carriers in the group, Air France was responsible for €566 million of the €752 million group operating loss for the second quarter, with Zaat suggesting that the carrier was lagging KLM in terms of restructuring its labour cost base due to local laws.
Structural cost reductions of €1.6 billion are expected to be achieved by the network carriers by the end of 2021 – split 50:50 between KLM and Air France – with a further €500 million reduction planned for the French airline during 2022, for a total of €2.1 billion.
The strong performance of cargo during the second quarter – creating revenue of €894 million, versus passenger revenue at network carriers of €1.49 billion and at Transavia of €126 million – enabled the group to operate a number of passengers services that would otherwise have not been viable. Group capacity of nearly 40 billion available seat kilometres (ASKs) was therefore matched by traffic of only 18 billion revenue passenger kilometres (RPKs) during the quarter.
In that environment, passenger-reliant low-cost unit Transavia had a tough quarter, reporting an operating loss of €98 million, but is likely to benefit from the return of leisure travel that kicked in during June, the group says.
Air France-KLM's maintenance division reported a small operating loss of €3 million.
Group capacity at around 48% of pre-crisis levels in the second quarter is expected to rise to 60-70% in the third quarter, with load factors also increasing amid a trend for late bookings.
By June, load factors were exceeding 50% and are expected to be more than 65% for July.
During the second quarter, Air France added three Airbus A350-900s to its fleet, while KLM Cityhopper welcomed two Embraer E195-E2s.
In 2022, Air France-KLM says it expects to have 7% fewer aircraft than it did in 2019.
The group's overall results show an EBITDA loss for the second quarter of €248 million, which was ahead of guidance and compares with a loss of €780 million in the same period of last year, when services were almost entirely grounded during the first stages of the pandemic. In 2019, the group reported a positive second-quarter EBITDA of €1.15 billion.
Air France-KLM's operating loss of €752 million for the second quarter compares with a profit of €400 million in same period of 2019 and a loss of €1.55 billion last year.
Revenue in the April-June period was €2.75 billion, compared with €7.05 billion in the same period of 2019 and €1.18 billion last year.
The group saw a net loss of €1.49 billion, compared with an €80 million profit in 2019 and a €2.61 billion loss in the same period of 2020.