Air France-KLM expects to operate 20% of previously planned capacity during the third quarter but raise the level to 60% by year-end.
Like other airlines, the group currently operates a skeleton programme to maintain essential air links, and it is providing just 5% of previously planned capacity during the second quarter. Its low-cost subsidiary Transavia has suspended all operations.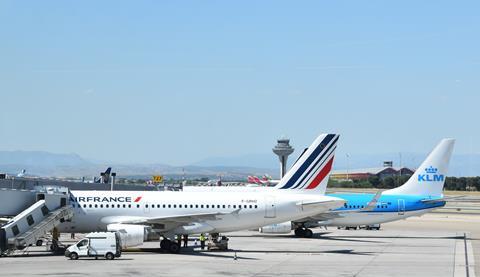 For 2021, Air France-KLM says it plans a "structural capacity reduction of at least 20%" of its fleet versus 2019, as the group expects passenger demand not to recover to pre-crisis levels for "several years".
Delivery of three Airbus A350s that were scheduled to join Air France's fleet this year has been postponed to 2021.
Group chief executive Ben Smith said during a third-quarter results call today that Air France-KLM was considering further aircraft deferrals amid wider talks with suppliers on payment delays as it seeks the "best possible" terms for its future development.
Air France has A350s and A220s on order, while KLM has Boeing 787s and Embraer E2 E-Jets on order.
The group has previously disclosed an accelerated retirement plan for Air France's A340s and KLM's Boeing 747s. Smith indicates that Air France-KLM is also evaluating a swifter exit for its remaining A380s. Under a plan disclosed last year, Air France intended to retire its A380 fleet by 2022.
Air France-KLM incurred an €815 million ($866 million) operating loss in the first quarter, deepening a €286 million reverse in the same period of 2019.
But the group says it made a "strong" start to 2020, and had by February cut units costs by 1.6% and boosted passenger unit revenue 0.8%. Capacity that couldn't be filled on routes to Asia – following the initial coronavirus outbreak in China – was redirected to transatlantic routes. But the situation deteriorated in March as pandemic spread to other regions and travel demand collapsed. During that month alone, the group made a €560 million operating loss.
It expects a "significantly higher" operating loss in the second quarter than in the first and a "significantly negative" full-year result.
During the second quarter, the group is losing around €400 million a month, in operational cash terms. In order to improve liquidity, its has reduced its 2020 capital expenditure plan to €2.4 billion – from the previous €3.6 billion – amid wider cost-reduction efforts.
France's government has facilitated for Air France an "initial" liquidity injection package worth €7 billion – comprising both loan guarantees and a direct shareholder loan – which, Smith says, will be finalised over the next days.
Meanwhile, discussions are under way with Dutch authorities over a €2-4 billion support package for KLM. But the Dutch government's proposal hasn't yet been approved by parliament.
In spite of the financial aid, Smith says the group will need to adjust to "much lower activity" in future.
He describes the French and Dutch governments' commitments and support by banks as "strong testimony of their confidence in our ability to weather this crisis and rebuild" the business.
Air France-KLM is currently preparing "a new transformation plan to ensure economic and financial sustainability over the medium and long term", it says. This includes adoption of more stringent environmental targets set out by the French government as part of its financial support package.
France's government has demanded that by the end of 2024 Air France halve CO2 emissions from "metropolitan flights" – from 2019 levels – and effect a "drastic reduction" of domestic routes where alternative train services with a maximum 2.5-hour travel time are available, the airline notes. However, feeder flights to Air France's Paris Charles de Gaulle hub will be exempt from the rule.
The airline's new transformation plan, which will replace a restructuring programme launched in 2019, is to be revealed during the summer.
Asked about future staffing levels, Smith says he will meet with unions in June to discuss the group's transformation and "how best to address the much lower activity" foreseen beyond the crisis.