Air Seychelles has appointed administrators after entering a formal company reorganisation on 5 October.
The carrier, which will continue to operate flights as usual during the restructuring, took the step after failing to reach agreement on repayment of historic debts.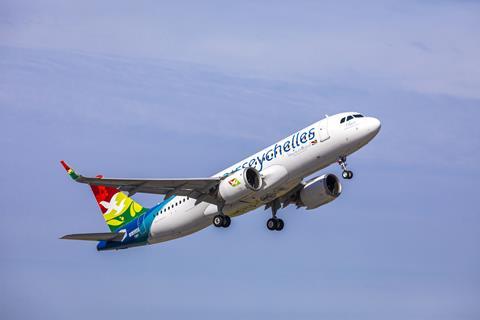 While the airline flags that is has faced "significant financial challenges" over the past 18 months during the pandemic, it says its financial difficulties arise mainly due to debts incurred over the period it was part-owned by Etihad Airways.
The Gulf carrier acquired a 40% stake in Air Seychelles in January 2012, one of a series of shareholdings it took as part of its equity-alliance strategy. Etihad retained the shareholding until May this year, when it sold the stake back to the Seychelles government for a nominal amount. The latter now holds a 100% of Air Seychelles.
Air Seychelles says the debt comprised amounts owed directly to Etihad and also loans of almost $72 million that were funded by the capital markets and are now controlled by bondholders of EA Partners. As part of the deal to acquire the Etihad stake, the government negotiated a major reduction in the amount owed to Etihad, at the time saying repayment of the remaining $11 million would begin in 2022.
At the same time it said talks were ongoing with EA Partners bondholders over the debts. In its statement of 5 October, the airline says: "The government and Air Seychelles have been in discussions with representatives of the bondholders of EA Partners but have not as yet been able to reach agreement on terms for settling this debt that Air Seychelles can afford."
It says it has taken the action of seeking a formal reorganisation after EA Partners bondholders served a petition for the winding up of Air Seychelles.
"Therefore, the only course of action is to enter company reorganisation," it says. Under this process administrators will determine whether a rescue plan should be presented to Air Seychelles' creditors.
"During the company reorganisation, the company will continue to operate normally with the same management and board of directors under the supervision of the administrators, who will prepare and present to the creditors – the main ones being the bondholders and the Government – a rescue plan for the company. This process is expected to take three to six months."