Canada's Air Transat resumed flying on 30 July after a six-month pandemic-driven pause.
The Montreal-based leisure carrier, a unit of Transat AT, says on 30 July that three flights are scheduled for the first day of operations: a round-trip between Montreal and Punta Cana, Mexico, and a flight from Montreal to Vancouver.
"It is with great joy and excitement that we return to the skies after these long months of suspension," says chief executive Annick Guerard.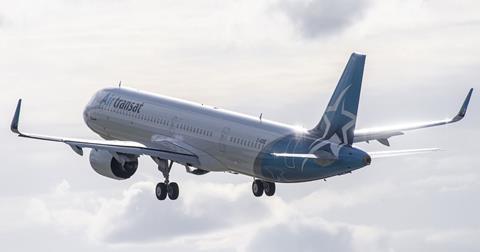 The flights kick off the airline's summer schedule, which will build to 24 routes to 16 destinations in Canada, the USA, the Caribbean, Mexico and Europe.
Transat halted operations in January after the Canadian government of Justin Trudeau asked the country's airlines to temporarily suspend flights to southern beach and resort destinations – places popular with Canadians during the country's long winters. That move devastated carriers' usually lucrative spring break business, hitting Transat particularly hard.
In April, the airline broke off a planned tie-up with cross-town rival Air Canada. The deal, announced in 2019, was approved by shareholders twice – as conditions of the deal, including the share price, had changed – but was then shot down by the European Commission over competition concerns.
Later that month, Transat reached an agreement with the federal government to borrow up to C$700 million ($561 million) to help weather the pandemic. The "fully repayable" funds included C$390 million "needed to support Transat until its business has recovered to a level where it can generate cash", the airline said at the time. Another C$310 million was set aside to reimburse customers for tickets cancelled by Transat during the pandemic.
Canada has had some of the strictest and longest-running pandemic-related travel restrictions. Those rules have only this month been relaxed for returning Canadian citizens and permanent residents, and will be loosened in August to allow fully vaccinated US travellers to enter Canada for tourism and other non-essential purposes. The government has said other international visitors presenting proof of vaccination will be welcome in September.
On 30 July, Transat said it had added three new Airbus A321LRs to its fleet, bringing its total number of the type to 10. The airline expects to acquire seven more A321LRs by 2023.