Air Wisconsin pilots represented by the Air Line Pilots Association, International (ALPA) earlier this week ratified a three-year contract with the US regional carrier.
About 93% of pilots who cast ballots approved the contract, which boosts Air Wisconsin pilots' combined pay by nearly $48 million over the life of the agreement, ALPA said on 9 October. The deal concludes negotiations that began in August 2022.
The contract was reached amid a pilot shortage causing a broad contraction of air service to small and rural communities across the USA as regional carriers lost pilots to major airlines.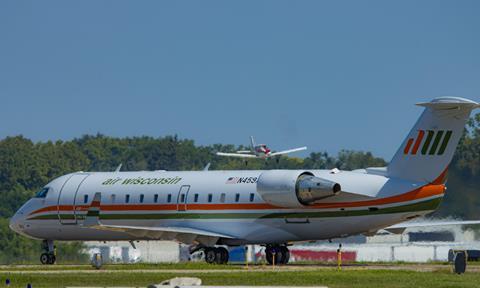 Terms include a 54% pay increase for first officers and 38% bump for captains over the three-year period. The deal also "addresses some of the most-criticised aspects of Air Wisconsin schedules and creates new protections for pilots who call in fatigued", the pilots' union says.
"With this agreement, Air Wisconsin pilot compensation finally reflects the pilot market for fee-for-departure pilots. It immediately makes us competitive with our peer carriers and will improve our quality of life," says Jack Roback, chair of ALPA's Air Wisconsin master executive council. "The training section of the agreement will also enable the pilot group to be ready to fly newer, larger CRJ700 aircraft should Air Wisconsin acquire them in the future."
Cirium fleets data show that Appleton-based Air Wisconsin has 44 Bombardier CRJ200s in service.
Air Wisconsin previously partnered with United Airlines but ended that relationship this year in favour of a new capacity agreement with American Airlines. It now flies throughout the Midwest and eastern USA under the American Eagle brand.
Roback says Air Wisconsin's pilots "look forward to working with management to strengthen our new partnership with American Airlines".