With Malaysia's removal of internal travel restrictions, AirAsia is reactivating large segments of its fleet as local demand ramps up.
Bo Lingam, who on 14 October was named group chief executive of AirAsia Aviation, says peninsular Malaysia will see a travel boom with the removal of travel restrictions on peninsular Malaysia on 10 October. There are still some restrictions, however, on travel to the Borneo state of Sabah, which should be removed by 1 November.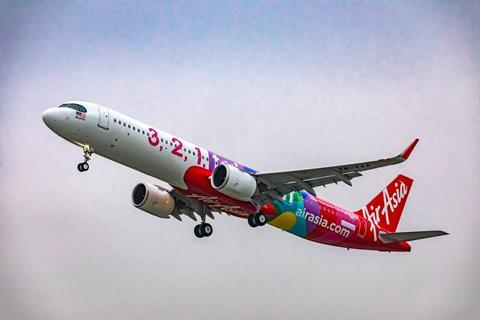 Key to the opening was Malaysia's achievement of 90% vaccination rates. Malaysia has been largely cut off from the world since the coronavirus pandemic started spreading from Wuhan, China in early 2020, with a so-called Movement Control Order sharply curtailing domestic travel.
"During the Covid times we had just six or seven flights, as the government wanted only only those with proper police permits to travel," says Lingam. "Ever since they created the bubble to Langkawi, we managed to pull out six aircraft, and we now have 9-10 [daily] flights to Langkawi."
By the end of the month, AirAsia will have 29 Airbus A320 family and A320neo family aircraft in service, which will grow to 37 by the end of November, and 57 by the end of November.
Beyond Malaysia, he also sees the possibility of limited regional flights opening up to destinations such as Thailand's Phuket and Krabi, as well as Male in the Maldives and Colombo in Sri Lanka. Another possibility is Bali, although quarantine requirements will be an overhang for its recovery prospects.
Even with 57 aircraft in service, this will still leave around 42 jets in storage in Malaysia. Some of these stored jets will be returned to lessors.
Once international borders open to flights, Lingam foresees the remaining stored aircraft coming back into service. For the time being, the carrier continues to recall cabin crew and pilots.
Lingam notes that regional governments are talking about how to open up, but says there remain concerns about the possibility of a new strain of Covid-19 emerging.
While passengers on peninsular Malaysian flights must be fully vaccinated, there are no testing requirements. At this early stage of the recovery, Lingam says that popular destinations include Kota Bahru, Penang, and Langkawi.
Passengers can load their vaccine status on the AirAsia 'Super App', allowing for a seamless, contact free check-in procedure.
From January to the end of September, Lingam says AirAsia has flown 1.7 million passengers. He forecasts that with the removal of travel restrictions the carrier will fly six million in the last three months of 2021.
Longer term, Lingam expects Southeast Asian borders to be open by the second quarter of 2022. He is also upbeat on India, which is opening its borders to international travel from November 15 – although Indian travelers are not yet allowed to fly to Malaysia.
As group chief executive of AirAsia Aviation, Lingam overseas group airline units in Malaysia, the Philippines, Thailand, and Indonesia. AirAsia Aviation is one of the eight "digital portfolio companies" in the group's stable — the other companies include cargo and logistics venture Teleport, MRO unit Asia Digital Engineering, as well as its AirAsia "Super App".