AirAsia Group is looking to raise MYR454.5 million ($113 million) from a private placement of shares, to meet its cash needs over the next three to 12 months.
The group is looking to sell over 668 million shares, equivalent to 20% of 3.3 billion shares issued, at the tentative issue price of MYR0.68, which represents a 9% discount to the five-day volume-weighted average price of its shares, the group states in a Bursa Malaysia disclosure dated 21 January.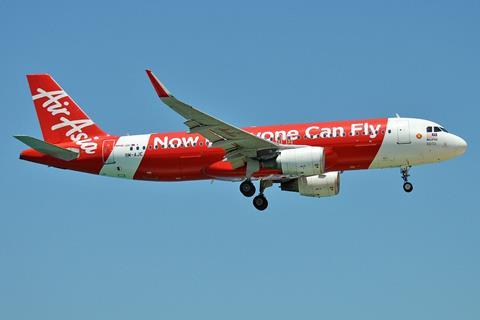 AirAsia intends to use MYR146.6 million within six to 12 months for settling fuel hedges, and allocates MYR135.6 million to general working capital expenses over six months. Another MYR95.2 million will go towards aircraft lease and maintenance payments, for use over three months, while AirAsia Digital is expected to need MYR77 million within 12 months.
Expenses associated with the placement are estimated at MYR160,000.
The group indicates that staff-related costs make up half the amount set aside for general working capital expenses, while variable costs such as jet fuel, user charges, and power-by-the-hour maintenance costs account for 35%. The rest is allocated to IT operating expenses and other general working capital needs.
The private placement proposed may be implemented in tranches within six months after receiving all relevant approvals, AirAsia states. It is open to accredited investors, high-net-worth entities or individuals, and will not be placed with an interested person, a person connected with an interested person, or nominee corporations.
The low-cost airline group states: "The proposed private placement will not fully address the group's current financial concerns as the estimated gross proceeds of up to approximately MYR454.51 million would not be sufficient to meet its long-term cash flow requirements."
However, AirAsia says this is "currently the most appropriate avenue of fundraising" as it is expeditious and cost-effective versus other approaches, and allows the company to raise funds in tranches, based on market conditions and its share price. This will also serve as an interim measure to address the company's immediate cash flow requirements while it continues to explore other options and corporate proposals that can improve the group's longer-term financial performance.
"In the longer term, all aspects of the group's business model will be re-evaluated," AirAsia states.
"The management team will recommend to the board the optimum size and shape of the group to meet the air travel needs of its customers while keeping the group's financial status at a healthy level and meeting its responsibilities to shareholders. This may involve rationalisation of future planned capacity compared to before the pandemic, taking into account the market outlook and cost structure at that time."
It adds that it will continue to "explore opportunities to improve the group's capital structure" by tapping equity and debt capital markets.
Based on the tentative share price, AirAsia will have over four million shares in its enlarged share capital, valued at MYR8.48 billion.