AirAsia Group's Philippines unit is optimistic of a "strong 2022", especially as domestic travel demand gains momentum amid rising vaccination rates.
The carrier outlined its key priorities for the year, including growing its network to include medium- to long-haul destinations in Australia, the Middle East, as well as the USA, but did not elaborate further.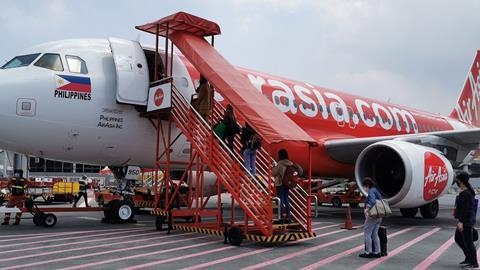 Sister long-haul group AirAsia X does not have a presence in the Philippines, but has units in Malaysia and Thailand.
AirAsia Philippines also expects to add four more cities to its domestic network, bringing the total cities served to 18 by the end of the year.
The carrier also promises to manage its liquidity "to support recovery strategies enroute to profitability", as well as manage and rationalise costs for commercial flight operations.
"There is strong pent-up demand for travel and Filipinos are ready to get back in the air. And compared to the previous two years, all stakeholders – airlines, government units and customers – are now much more conscious of the key strategies and measures needed to properly approach traveling amid the pandemic," the carrier says in a 3 January statement.
AirAsia Philippines saw travel demand rise during the year-end travel period, with load factors in December averaging a record 88%. It adds that market share for 2021 grew 3.5 percentage points to 19% against pre-pandemic 2019.
"AirAsia Philippines is highly optimistic that with improved synergies between the national and local governments, and the intensified vaccination program of the country, more Filipinos will be enticed to travel again," states the carrier.