AirAsia X will ramp up capacity on medium haul routes within Asia-Pacific as its relaunch strategy gathers pace, with the airline promising to recall all furloughed and retrenched crew.
Both AirAsia X units in Thailand and Malaysia will increase the number of flights through the year-end, the airline group states in a media release issued 18 October.
New destinations to be launched include Jeddah and Taipei from Kuala Lumpur in November, as well as Melbourne, Sydney and Sapporo from Bangkok in December. By year-end, Malaysia AirAsia X will be operating 44 flights a week and Thai AirAsia X at 22 weekly flights.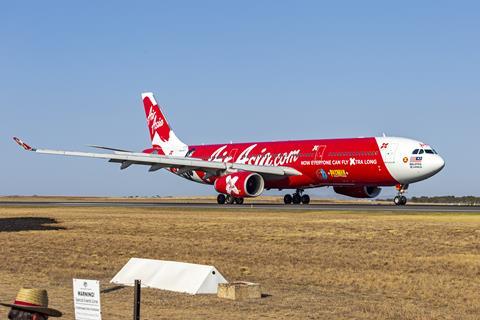 However, highly-anticipated plans to restart flights to London – after a hiatus of about a decade – appear to be delayed, with the latest statement making no mention of when flights, which will be operated from Kuala Lumpur via Dubai, will be launched.
Acting group CEO Tony Fernandes says: "While medium haul is our first priority, we still remain focused on launching certain longer haul destinations like London, Dubai and Istanbul, which we will announce in the near future."
Plans to fly to London were first teased in June as AirAsia X exited restructuring and resumed operations. The airline was understood to be looking at relaunching flights to London around Christmas.
Separately, AirAsia X Group also confirms that all furloughed pilots and retrenched cabin crew "will have the opportunity to be back in the sky" by the end of the year.
States Fernandes: ""Many pilots and cabin crew are already back in service, but as we continue to grow in line with huge pent up demand, all of our AAX pilots who are still on furlough will return to the flight deck, together with the retrenched cabin crew by December this year. In fact, we are now retraining the third batch of rehired cabin crew ahead of strong forecast demand for medium haul air travel."