AirAsia X (AAX) has agreed to classify Malaysia Airports as a secured creditor, as it seeks to expedite its massive debt restructuring programme.
"After consultation, AirAsia X has accommodated [Malaysia Airports] and made certain clarifications and revised the scheme under two separate classes 'A' and 'B'," says the carrier in a statement.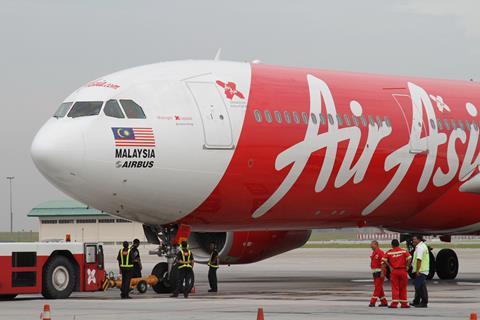 "Class A shall consist of creditors who are considered critical or essential and who may have secured and/or other rights. Class B shall consist of creditors who do not fall within Class A."
In a separate stock exchange filing, AAX states that Malaysia Airports' legal challenge contended that as a secured creditor it has the right to detain aircraft, parts, accessories, vehicles, and other equipment.
AAX adds that it makes the status change "in the interest of time," a reference that it hopes to come to an agreement with creditors in the first quarter of 2021. Announced on 6 October, AAX's proposal calls for restructuring MYR63.5 billion into an "acknowledgement of indebtedness" for up to MYR200 million payable over the next five years at a 2% interest rate.
Following the airline's proposed debt restructuring on 6 October, Malaysia Airports filed a legal challenge protesting its being lumped in with unsecured creditors. Malaysia Airports is also suing AAX for MYR78.2 million ($19 million) in unpaid passenger service charges (PSC) – the subject of a long-running dispute between the two parties.
The airline also notes that Malaysia Airports has threatened to take legal action against its directors in their personal capacity over the PSC issue, which it claims is "intimidatory in nature."
"AirAsia X also wishes to report that major creditors have all demonstrated great maturity, professionalism, constructive engagement and commercial realism in dealing with the debt restructuring exercise," it says.
"Though the process is on-going and a common consensus remains to be reached, AirAsia X looks forward to being able to present the revised scheme for all creditors to vote on early in the first quarter of 2021."
Assuming 75% of creditors go along with AirAsia X's proposal and other approvals are obtained, AirAsia X basically aims to start afresh in 2021, initially operating a pair of A330s, and working up to a full network by the end of next year.
Creditor BOC Aviation has also opposed the restructuring via legal means, with a challenge in the High Court of Malaya on 14 October. In September, before AAX announced its restructuring, the lessor filed a claim against the carrier for nearly $23 million in a London court.
AAX, lossmaking even before 2020's coronavirus pandemic, faces an existential crisis owing to the collapse in international air traffic to and from Malaysia this year. In the second quarter, operating losses widened to MYR323 million on revenues of MYR91.4 million, which were down 91% from a year earlier. Its cash and cash equivalents at 30 June stood at MYR212 million, down 31% from three months earlier.
The airline operates 41 A330s, of which 18 are leased. It also has orders for 116 Airbus jets comprising 76 A330neos, 10 A350-900s, and 30 A321XLRs.