Airbus chief executive Guillaume Faury has underlined the importance of the China airliner market, which he feels will continue to grow strongly.
"If you put aside the pandemic times, aviation in China has been growing at a pace that is faster than in the rest of the world," says Faury, speaking with official Chinese news agency Xinhua.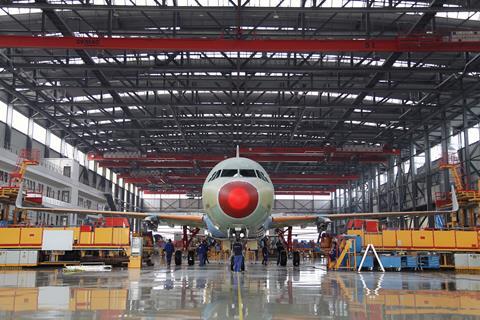 "What always strikes me in China is the energy, the speed, the optimism and the ability to go fast."
Faury made the remarks in the wake of Airbus's 6 April announcement that it will open a second A320 final assembly line in Tianjin, during a state visit by French prime minister Emmanuel Macron.
The airframer's first A320 line in Tianjin was opened in 2008. The new line will help Airbus meet its objective of producing 75 single-aisle aircraft monthly in 2026.
Faury tells Xinhua that Chinese air traffic is likely to grow at 5.8% annually over the next 20 years, greater than the global average of 3.6%.
"I believe Airbus is well-placed to capture that demand," says Faury.
Cirium fleets data suggests that Airbus leads China's civil aviation market, with Chinese Airlines operating 2,087 Airbus aircraft compared with 1,709 Boeing aircraft.
Chinese state airframer Comac is a distant third, with Chinese carriers operating just 85 aircraft.