This week saw two low-cost carriers announce changes at the top of their businesses, where the similarities between the stories begin and end with the business model.
In the USA, it was announced that Southwest Airlines chief executive Gary Kelly will step down in early 2022, to be replaced by the airline's executive vice-president of corporate services, Robert Jordan.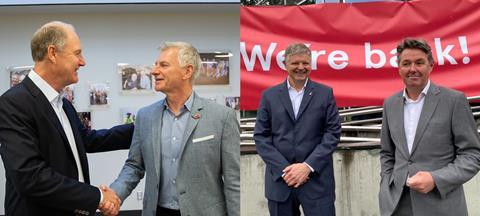 Pre-pandemic, Southwest had posted a profit for 47 consecutive years, with Kelly having led the carrier since 2004. The devastating impact of the Covid-19 pandemic inevitably broke that winning streak, although the carrier was already back in profit for the first quarter of this year.
Amid a strong recovery in domestic US markets, Kelly is likely to hand over a formidable competitive force.
The story behind this week's other big chief executive news is not quite as rosy.
In Europe, Jacob Schram's time as chief executive of Norwegian came to an abrupt end, with the announcement that chief financial officer Geir Karlsen would be taking the reins.
Karlsen had "successfully led the financial reconstruction" of the airline, Norwegian's board said.
Schram joined the carrier at the start of 2020, meaning most of his time there was set against the backdrop of a global pandemic. He took up the role with a mission to secure profitability after years of rapid expansion had taken its toll on Norwegian's finances.
He leaves the operator with a transformation of sorts having been completed – but not quite the one he would have had in mind 18 months ago.
A significantly slimmed-down Norwegian emerged from bankruptcy in May, with a plan to operate around 50 aircraft – its fleet having peaked at more than 150 – in short-haul markets only.
With the long-haul services that made Norwegian such a significant disruptor abandoned, the chief executive's mission today is unrecognisable from the one initially given to Schram.
While the new Southwest chief will be aiming to deliver more of the same, the new leader at Norwegian will be focused on ensuring history does not repeat itself.
Subscribers to the Airline Business newsletter receive the Friday Briefing first every week. For more information, click here.