Airline leaders speaking at an aviation panel are "cautious but bullish" about recovery from the Covid-19 crisis, though they warn of imminent challenges including manpower constraints and market overcapacity.
Speaking at the panel, which was held at the Aviation Festival Asia 2022 organised by Terrapinn, were Malaysia Aviation Group chief Izham Ismail, AirAsia Malaysia chief Riad Asmat, as well as Air India Express's Aloke Singh.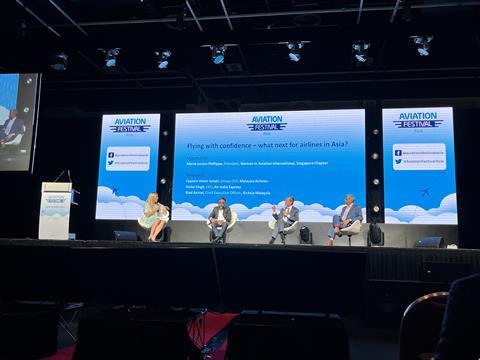 Singh says that while challenges persist in the short term, including inflation and the ongoing war in Ukraine, "when you take the a mid-term and the long-term view we are absolutely bullish".
"The fact is that the key drivers of our business…are all intact, the economy is the biggest driver," he adds, noting that aviation has grown in tandem with the economy.
AirAsia's Riad concurs, stressing that Southeast Asia, where the airline group has a significant presence, presents plenty of opportunity: "We've got more than 650 million people…[and] we all need to be connected in one form or another."
"The opportunity [is] right in front of us…[it's] now just a matter of whether we want to grab it…in the right way, the right manner, and with the right partners," Riad adds.
Izham, meanwhile, gives a slightly more conservative outlook, warning that while post-pandemic recovery is good, "the danger that we might not be able to [pull ourselves out of] is overcapacity".
"If you look at where we were pre-Covid-19, it was a market [full of] overcapacity. So to drive…profitability will be very tough [in such a case]," Izham adds. Malaysia Aviation Group, the parent company of Malaysia Airlines which completed business restructuring in 2021, has been "selective" in markets where it chooses to recover capacity.
Agreeing, Singh believes "any additional capacity deployed has to make financial sense and generate a return on investment".
Their comments come as the industry hits a turning point after two years of the pandemic, with travel demand sometimes outstripping capacity, leading to higher airfares. The situation is made further compounded by rising fuel prices – an effect of the war in Ukraine – as well as inflation.
The panellists also spoke about manpower and resource constraints as another challenge facing the sector, especially with flights resuming and borders reopening.
Pointing out how the manpower crunch has affected airlines in North America and Europe, Izham says it is also a matter of time that the issue will hit carriers in this region. To this end, he calls for "all stakeholders and policymakers" to work together to resolve the issues.
He adds: "But the dynamic has shifted [during the pandemic]…[I think] people are not attracted to come back to an airline environment, because airlines are so volatile – we retrench people in the pandemic, then we try to call them back."
Air India Express' Singh adds that another challenge is getting licensed and trained manpower, "something that cannot be produced overnight".
Riad, meanwhile, notes that AirAsia has already begun "planning for the next six to eight months the manpower requirements for the airline".
Offering a slightly different take, he adds: "Demand is always there. It's just a matter of planning [and] timing…we know that people are there."