Government involvement has become "the new normal" for the world's largest long-haul airlines amid the Covid-19 pandemic, in the view of Lufthansa Group chief Carsten Spohr.
Speaking during the virtual World Aviation Festival on 25 September, Spohr said Lufthansa "was a big fan of liberalisation and privatisation". He likened the German carrier's privatisation in 1997 and subsequent growth to British Airways' privatisation a decade earlier and its later merger with Iberia to form IAG. But Spohr adds: "Covid turned that trend around, and we have to accept that."
The German government has taken a 20% shareholding in Lufthansa Group as part of a €9 billion ($10 billion) financial support package aimed at preventing insolvency.
This has not put Lufthansa out of line with international peers, Spohr points out. Citing government shareholdings in Air France-KLM and the part-ownership of IAG by state-owned Qatar Airways, he says the German stake in Lufthansa is "at the very low side of my global competitors".
He acknowledges that pure short-range operators have received much less support from governments. But when it comes to intercontinental operations, he argues, "we are all in a similar range here among the European legacy carriers. That's the new normal for the three players in Europe."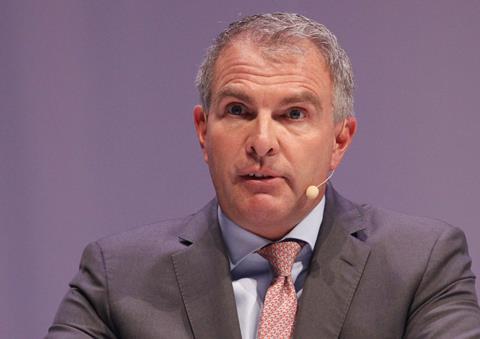 Pointing also to state shareholdings in Middle East and Chinese carriers, and US government financial support for airlines in their jurisdiction, Spohr says "governments have stepped in and will be engaged for a while".
Lufthansa intends to pay back its state support by the middle of the decade. But this will depend on the airline's recovery and ability to generate income.
"Hopefully, we eventually generate cash flow to operate the business, even though we are far from that, unfortunately," Spohr says.
In any case, he says, the airline will employ a mix of measures to reduce its government debt, including fresh capital from financial markets and from asset sales.
Already before the crisis, Lufthansa had agreed the sale of its European catering business to GateGroup. That deal is set to be completed over the next weeks, Spohr says.
Lufthansa also wants to sell its international catering business outside Europe and has indicated interest in selling financial-services activities and in divestment of a minority stake in MRO business Lufthansa Technik. Spohr notes, however, that a sale in the current economic environment is unlikely to deliver an adequate return. The group will therefore wait before pursuing further divestments.
He describes LHT as "a jewel" among the group's activities.
Lufthansa's loyalty programme, meanwhile, is "not for sale", Spohr stresses.