Unions representing US airline workers are voicing support for a Frontier Airlines-Spirit Airlines tie-up, while expressing opposition to JetBlue Airways' competing hostile offer for Spirit.
Transport Workers' Union International (TWU), which represents 65,000 members employed by American Airlines, Southwest Airlines, JetBlue, Frontier, Envoy Airlines, Alaska Air and Allegiant, says it is against JetBlue's attempt to take over and dismantle the Florida-based ultra-low-cost carrier (ULCC).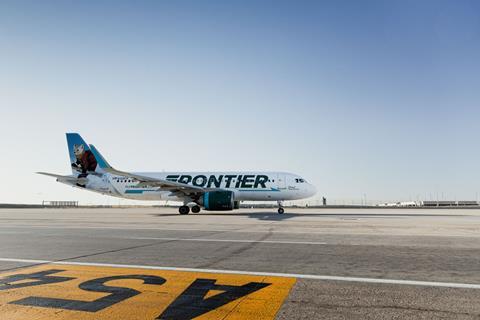 "After thoughtfully considering the impact that a JetBlue acquisition of Spirit Airlines would have on customers and our workforce, the TWU fully opposes JetBlue's proposed hostile takeover," TWU says on 18 May. "JetBlue has proven itself to be an abusive employer by disregarding the well being of its workforce and refusing to abide by its existing union contracts."
"In addition, JetBlue would be poised to eliminate thousands of good-paying jobs and low-cost flight options for customers," the union says.
Meantime, flight attendants' union Association of Flight Attendants-CWA, which represents cabin crew at Spirit and Frontier, on 17 May threw its support behind the Frontier proposal, saying it reached an agreement that will give flight attendants "significant protections" if the deal is consummated.
"We are thrilled to announce our support for the merger of Spirit and Frontier Airlines after reaching a transition agreement that protects flight attendant jobs, assists with the AFA-CWA seniority integration… and paves the way for efficient contract bargaining that allows flight attendants to experience the benefits of the merger as soon as possible," Sara Nelson, international president of AFA-CWA, says.
"We support the necessary regulatory approvals that will improve competition, increase consumer options and experience, and maintain and grow good union jobs," she adds.
The tug-of-war for Miramar, Florida-based Spirit began on 7 February, when Frontier made a $2.9 billion proposal for its ULCC rival in cash and shares. In April, New York-headquartered JetBlue countered with an unsolicited all-cash bid that was worth $3.6 billion, or $33 per share.
JetBlue's plans have Spirit folding into its own operations, dismantling it as a ULCC and using its assets to expand JetBlue.
JetBlue has since revised its offer down to $3.3 billion, or $30 per share, while giving assurances about its own legal and anti-competition questions.
A JetBlue-Spirit combination, Spirit's board has said, would likely be opposed by antitrust regulators, noting that JetBlue is already under regulatory scrutiny for its joint business in New York and Boston with American Airlines. The US Department of Justice has sued to block the JetBlue-American partnership, which the airlines call their "Northeast Alliance".
Therefore, Spirit's board rejected the JetBlue offer earlier this month, saying it is "not superior" and carries significantly higher risk for Spirit shareholders due to legal wrangling. The airline has now asked its shareholders to approve the Frontier plan on 10 June.
JetBlue, meantime, is attempting to hinder that and has filed a "Vote no" proxy statement, calling the Frontier proposal "inferior, high-risk and low-value". It's hoping to sway Spirit shareholders to reject the offer and force the airline's management to return to the negotiating table.
Air Line Pilots Association, International (ALPA) which represents pilots at all three carriers, said on 8 February, the day after Frontier tendered its initial proposal, that it would evaluate the merger plan and support "both pilot groups in their quest for a joint collective bargaining agreement".
ALPA did not have additional comments about the potential transactions, or JetBlue's hostile takeover bid.