Airlines that do not embrace sustainability challenges will eventually put their very existence at risk, in the view of Etihad Aviation Group chief executive Tony Douglas.
Speaking during a Eurocontrol event today, Douglas said he recognises sustainability as a existential challenge for the airline industry, stating: "It's not a short-term adjustment, it's a medium-to-long-term reality."
Etihad's view, he explains, is that airlines "will fail as a result of an inability to embrace the reality of what we all have to do and how we collaborate to improve the longer-term sustainability of aviation".
That will happen amid increasing pressure from governments and regulators to take action on the sector's environmental footprint, Douglas suggests.
"Those who haven't been a thought leader in this space will probably end up penalising themselves," he states. "I would argue, quite frankly, rightly so."
Douglas cites Etihad Airways' work with its 'Greenliner' and 'ecoDemonstrator' flying testbeds – both using Boeing 787s – as evidence that the airline is a "thought-leader" in the industry when it comes to sustainability.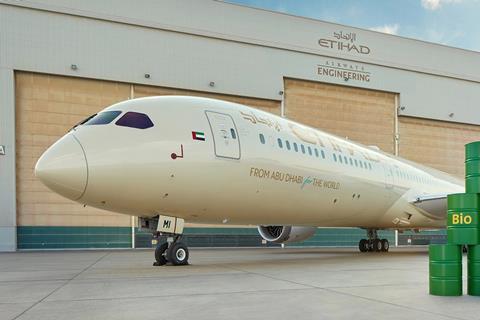 The Abu Dhabi-based carrier has worked on those projects with a range of organisations and businesses, from NASA and Boeing, "through to small SMEs", he notes.
"Increasingly, aviation's biggest challenge will be for those airlines that have been able to step up and put together those many small innovations – because there is no silver bullet – to preserve aviation going forward because it has got a sustainable platform to build off," Douglas says.
He further states that carbon-offsetting is only "short-term stepping stone" for airlines, and that the development of sustainable and/or alternative fuels – such as hydrogen – and technology improvements are more important to the sustainability effort.
Such initiatives "give us the means to sustain [efforts] within our own control", he says.