Airlines find themselves facing a critical dilemma as they resize their networks for a new post-coronavirus normal, and must walk a tightrope between furloughing pilots and keeping them on staff to maintain network flexibility, experts say.
During a 20 August webinar organised by FlightGlobal in association with CAE, three industry experts weighed in on what airlines must do to keep balance between shrinking their pilot workforces in the short term to save money, while keeping enough pilots working or in easy reach if and when a significant recovery begins.
"It's a meaningful conundrum," Oliver Wyman aviation practice partner Geoff Murray says during the webinar, called "Rebuilding Commercial Aviation From the Flight Deck". Murray, also a former US airline pilot, warns of a "pilot re-shortage" once passengers begin returning to air travel.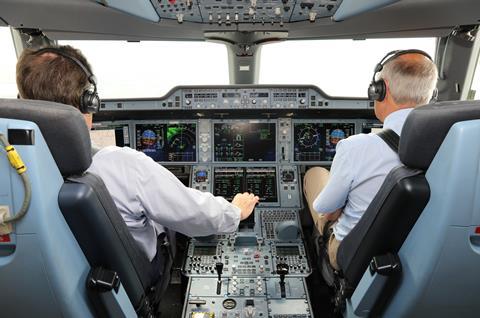 "Airlines are very distracted in terms of survival as a key issue right now, but when you look at the market dynamics, that problem of a global supply issue can quickly resurface in a post-recovery environment," says Keith Butler, managing director at CAE Parc Aviation. "Airlines need to now start planning on how to deal with that."
Prior to the pandemic, airlines had long warned that a pilot shortage threatened to cripple their industry. Mandatory age-based retirements along with the high cost and time requirements of training a new generation of pilots were seen as significant barriers to industry growth.
Executives at some US regional airlines had insisted they lacked enough qualified pilots, warning that the shortage threatened flights to small US cities. Regional airlines said a 2013 Federal Aviation Administration rule requiring commercial pilots have 1,500h of total flight time, up from 250h, stifled the inflow of recruits. One regional carrier, Great Lakes Airlines, folded in 2018 after cutting its network due, executives said, to the inability to find enough pilots.
A few weeks into the global pandemic earlier this year though, such talk had quieted.
Airlines have warned they may shrink at least 30% to match depressed demand, meaning headcount reductions. In the US alone, three regional carriers have folded since the pandemic struck, and the three major airlines have said they are preparing to shed up to 80,000 jobs when federal aid expires at the end of September. Among those are thousands of cockpit crew.
Most US carriers offered early retirement packages and voluntary leaves of absence to conserve liquidity and soften the blow. But that may strain the pilot pipeline as the industry returns to some semblance of normal operations, insiders say.
Pilots often need seven to eight years of initial training, as well as regular recurrent training, and must invest a sizeable amount of money into education – $100,000 or more, according to trade groups – before they can set foot in an airliner's cockpit.
Now, experts say the pilot shortage has not gone away, but rather been pushed out two to three years.
"We are seeing, in some cases in North America, as much as 15-20% of the pilot seniority lists taking early retirement," says Murray. "When you combine that with the additional retirements taking place in the next two or three years, we are going to be dealing with a significant shortage as early as 2023-2024."
The shortage will "be driven by not only the retirements, but, more importantly, the pipeline of pilots that are thinking about entering the industry now".
During the global financial crisis of 2009, student pilot certificates fell almost 35% because potential candidates no longer saw aviation as a viable career, Murray adds. But experts agree this kind of reaction is short sighted.
"At the moment it doesn't look like a very valuable value proposition. But in four or five years it may in fact be a very valuable value proposition," Murray says.
The complication is that once pilots leave the cockpit and decide to return, they must again complete rigorous training courses and gather further experience in order to re-qualify to fly passenger aircraft. This process could take between a few weeks to a few months.
So, furloughing pilots now could lead to significant delays in getting enough qualified staff later. Many pilots might not even consider returning, experts say.
Andrew Kelly, group director of corporate affairs at ASL Aviation Holdings, concurs. "The longer it [takes for the industry to come back], the more difficult it is going to be," he says during the webinar. Former pilots will have moved to other careers in order to support their families, and would be very expensive to retrain.
He warns there could be be a dearth of mid-career and senior pilots so severe that airlines may return aircraft to service, but not have enough qualified individuals to fly them.
In the coming years, it will be difficult for pilots everywhere, CAE's Butler notes, but the industry must continue to fill its pipeline somehow, including by recruiting more women to cockpit roles. Currently only about 5% of all commercial pilots worldwide are female, experts say, a number far below what the industry would like.
"One of the things the industry was beginning to get to grips with before this crisis is that half the global population was not being actively mined," Butler says. Recruiting a more diverse candidate pool should be on every airline's priority list, he adds.
In any case, the panel encouraged those with dreams of flying commercial aircraft to continue their education, and to not give up. Resilience, resourcefulness and flexibility are important traits in pursuing a career in the cockpit, and at this time it's important to have a bit of all three.
"If there is one thing that people should come away with… it is hope," says Butler.
"You're not a real pilot until you have been furloughed," Oliver Wyman's Murray adds.
The Rebuilding Commercial Aviation from the Flightdeck webinar, organised by FlightGlobal in association with CAE, is available to access on demand here