Emirates Airline president Tim Clark fears the industry's shift away from the largest aircraft types could leave carriers short on seats in the coming decades, potentially leading to "enormously high fares".
"You will not be able to accommodate [future] demand" with existing aircraft, Clark told FlightGlobal on 14 September.
"How are you going to manage?" he adds, noting a glut of narrowbody jets will not fill the gap. "You will be back to enormously high fares."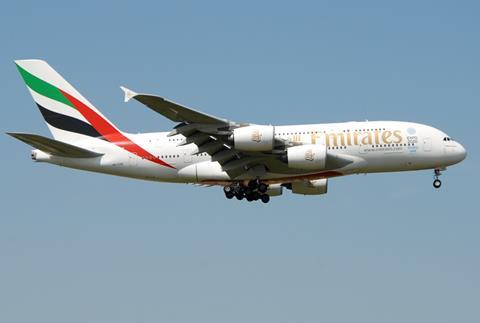 Clark, speaking during an event near Washington DC, also reiterated his pitch for Airbus to develop an updated A380.
"You are talking about an aircraft in 2040," he adds. "But at least it brings back the seat capacity."
Emirates specialises in carrying large numbers of people between the world's major cities. (It flies eight A380s daily, for instance, between London and Dubai.)
The airline has 145 Boeing 777s and 121 A380s, and orders for 50 A350s, 30 787s and 117 777-8s/9s, according to Cirium data.
Emirates aside, airlines have been shifting away from 400-plus-seat, four-engined widebodies for years. The trend started even before the pandemic, with Airbus halting production of the A340 in 2012 and the A380 in 2021. Boeing expects to deliver its final three 747-8Fs before year end.
"We used to have such wonderful [aircraft]," says Clark.
Covid-19 accelerated that trend, prompting airlines to ground widebodies and stifling demand for new twin-aisle airliners. Instead, carriers have been eagerly acquiring new Airbus and Boeing narrowbodies.
Though the industry is well along the road to recovery compared with the depths of the pandemic, international air travel remains significantly below 2019 levels, and some analysts predict the segment will need until 2026 to regain lost ground.
A June 2022 report from trade group IATA predicts the number of air passengers will increase 3.3% annually through 2040.
Clark thinks the sector is poised for faster growth – "four, five, six percent" annually in the coming years, he says.
If that happens, the industry will need aircraft larger than A350s and 777s, Clark says. Boeing says its 777-9 can carry up to 426 seats in two classes, while Airbus puts the three-class capacity of its A350 at 410.
The unavailability of airport slots will exacerbate the problem, he adds.
That is why Clark thinks the industry needs a larger new jet, like an updated A380 – an idea he previously floated. Airbus did not respond to a request for comment.
Such a jet could delivery efficiencies through aerodynamic improvements and greater use of composite materials, and could be powered by Rolls-Royce's future UltraFan engine, says Clark. R-R has said the UltraFan will be 10% more efficient than its Trent XWB, which powers the A350.
"I don't want windows… I can create individual windows with a camera," Clark adds. "The weight that is built into an aircraft structure because of the windows all goes."
If the industry does not act, Clark sees trouble. "All the the benefits of mass travel by air that came with the 747 widebody… will go," he says.