Alaska Air Group reports increased profits and generated about $2.8 billion of revenue during the third quarter, which company executives attribute to strong operational performance and "cost discipline".
The parent of Alaska Airlines reported roughly equivalent revenue during the same period of 2022.
The Washington-based carrier made $139 million during the three months ending 30 September, compared with a profit of $40 million last year.
"Our third-quarter performance continues to demonstrate the underlying strength of our business model and our commitment to drive consistent, measured progress against our goals," says chief executive Ben Minicucci. "During the quarter, we ran the best operation in the country, delivering a 99.7% completion rate and an on-time rate of over 80%."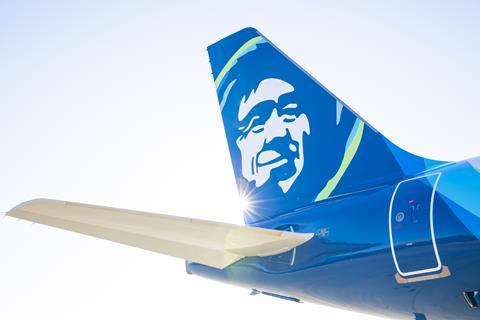 Alaska set company records for completion rate in all three months of the quarter, it says.
Meanwhile, expenses totalled $2.6 billion, down 5% from $2.7 billion last year. "We drove unit cost down nearly 5% year-over-year, a strong performance that stands alone versus our peers," Minicucci says.
The average cost of fuel per gallon was down to $3.22 from $3.61 during the third quarter of 2022, while aircraft utilisation was up 13%.
Primarily a domestic carrier, Alaska had "lower direct exposure to record international demand, as well as significant fuel-cost headwinds given our geographic exposure to the West Coast", Minicucci says. The airline asserts that it pays higher prices for jet fuel than its competitors because of its location in the Northwest USA.
Alaska reports strong demand during peak times for air travel. But the slow return of corporate travel has suppressed it during "shoulder periods".
"The strong revenue performance we saw from April through most of August moderated as we moved into September," says chief commercial officer Andrew Harrison. "Demand for leisure looks to have normalised, and without further return of business demand, shoulder periods are more challenging than they have been the past couple of years."
Expected summer demand that "did not fully materialise" led to "modest load factor weakness in areas of our network where we deployed more capacity than we normally would", he adds.
Additionally, the brush fires that devastated multiple communities on the Hawaiian island of Maui reduced the carrier's third-quarter profit by about $20 million. Operations in Hawaii make up about 12% of Alaska Airlines's total capacity, Harrison says, with about a third of that devoted to Maui alone. Travel to the island is recovering but September bookings were down 45% compared with last year.
These ongoing factors will likely make the next two quarters "more challenging", Minicucci says, as Alaska turns its attention "to winter preparedness".
The company still expects a 7-8% revenue increase over full-year 2022.
Alaska retired the last of its Airbus A321 aircraft in late September. During the earnings call, the carrier disclosed a deal to sell its final 10 of the type to American Airlines, completing Alaska's transition to an all-Boeing fleet.
The carrier also took delivery of five new 737 Max during the third quarter, while regional subsidiary Horizon Air took two additional Embraer 175s.
Horizon has a fleet of 41 E175s currently in service, according to Cirium fleets data, while Alaska is operating 220 737s – 163NGs and 57 newer 737 Max aircraft.