Alaska Airlines doesn't plan to cut capacity for March and April, unlike many other airlines. It is still considering options to respond to the coronavirus epidemic that has hit the travel industry hard in the past month.
The Seattle-based carrier's executives told analysts at the JP Morgan Aviation, Transportation and Industrials Conference on 10 March that they are eyeing capacity cuts of up to 3.2% for May, but no concrete decisions have been made.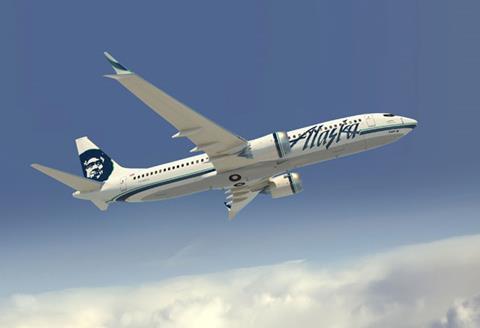 "We do expect to fly less, we're just not providing guidance on that right now," Alaska's president Ben Minicucci tells analysts at the conference.
The company is analysing "the need to consolidate frequencies or trim flights that would operate at a cash loss in May and beyond," it says in its presentation to the conference.
"We are trying not to have this crisis change our longer-term focus and strategic plan," Minicucci says. "We have put a lot of time into what we want to do in the next couple of years. We don't want to knee jerk and throw all that away."
Alaska is continually assessing on "how to get the right mix of airplanes in our fleet and getting a lot smarter about what the fleet needs to look like in the next couple of years," he adds. "We are not going to knee jerk on anything because of the virus," he says.
Minicucci says load factors in January and February were up three and two percentage points respectively, and bookings in March and April were strong and in line with expectations before the virus hit.
Since 24 February, the airline has seen 265,000 fewer bookings than in March 2019, and 270,000 cancellations for the month. "These are material impacts," Minicucci says.
Should the crisis drag on, Alaska is able to reduce the fleet in an organised and flexible fashion, executives say. Retirements and returns of aircraft on an accelerated schedule, as well as the return of slots and sale of other assets such as real estate and other holdings are possible.