Pilots at Alaska Airlines have reached an agreement with the carrier that they say will prevent the need for furloughs and layoffs when government payroll support ends later this year.
Air Line Pilots Association, International (ALPA) says on 21 July that enough of Alaska's pilots have taken advantage of voluntary leave and early retirement packages to make furloughs as a result of the airline's coronavirus-prompted re-sizing unnecessary.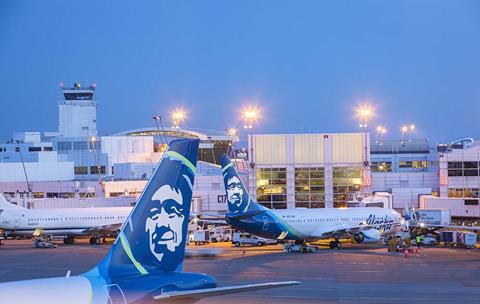 "The Covid-19 pandemic has had a major impact on our industry and our pilots," says Will McQuillen, chairman of ALPA's Alaska union group. "Our experienced team of pilot volunteers worked diligently over the last two months to establish programmes for those pilots who could step away from flying on a temporary or permanent basis while preserving the employment of those who need or want to continue flying."
"Strong pilot participation in these voluntary programs has effectively avoided the threat of pilot furloughs at Alaska Airlines," the union says.
Alaska Airlines could not immediately be reached for comment.
Other major US airlines have offered employees generous packages in hopes they can avoid layoffs as the coronavirus global health crisis drags into the second half of 2020.
In the past two weeks, American Airlines and United Airlines have said they will together need to cut almost 5,000 pilot jobs as they begin to restructure their companies to prepare for a long and slow recovery. The two airlines have put 61,000 employees on notice that their jobs may be lost come Autumn.
United said on 16 July that its pilots voted to accept voluntary staff reduction plans that would help reduce the number of pilots who might be laid off in the coming months. American has also said it is offering similar programmes to its various work groups. Both airlines report second-quarter earnings later this week and are expected to give updates on future staffing needs.
ALPA said last week that pilots at New York-based low-cost carrier JetBlue Airways have a no-furlough guarantee until at least the end of April 2021.
With industry experts forecasting the sector will not fully recover until 2023, and the potential of mass layoffs coming in the fourth quarter when government financial aid runs out, airlines now must walk a fine line between cutting just enough to survive their current liquidity squeeze, but not too much so that it will permanently cripple them when passenger demand returns.
A wave of impending age-related mandatory retirements coupled with the long and protracted training requirements for new pilots could make that a difficult path to negotiate.
The CARES Act, passed by Congress in March, provided $58 billion for commercial airlines to help them through the liquidity bind that arose as a result of a sharp decline in passenger demand after many US states imposed lockdown orders in March and April.
In return, airlines agreed to make no layoffs before the beginning of the fourth quarter. With that 1 October deadline fast approaching, unions such as ALPA and the Association of Flight Attendants-CWA are lobbying the US government to extend the payroll protections beyond their original expiration date, in order to allow more time for travel demand to return.