Mirroring other US airlines, Alaska Air Group reported a loss for the first quarter of the year but expects demand and profitability in the second quarter to soar.
"Alaska has a proven track record and a resilient business model that delivers in good times and through challenging ones," says chief executive Ben Minicucci on 21 April. "March results were particularly strong, marked by our highest-cash-sales month in history and revenues that exceeded 2019 levels for the first time since the pandemic began."
The Seattle-based carrier lost $143 million during the first quarter of 2022, compared to a loss of $131 million in the same period in 2021.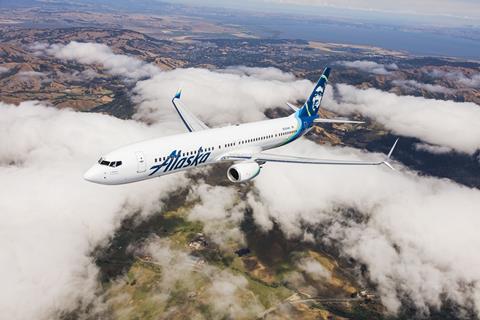 Revenue rose to $1.68 billion during the three months that ended on 31 March, up from $797 million in the same period one year ago and down just 10% from the same period in 2019.
"That marks the continued sequential improvement of our revenues," adds Andrew Harrison, the carrier's chief commercial officer.
Load factors rose from 69% in January to 75% in February and 85% in March. The March figure is one point stronger than in 2019, and March revenue also exceeded 2019 levels, he adds.
That is "indicative of what we see going forward", he says.
For the second quarter, the company expects revenue to be 5-8% greater than its pre-pandemic levels, even though it will have less capacity.
"We recently reduced [second-quarter] scheduled capacity in response to shortfalls in through-put from our pilot training department versus what was originally planned," Alaska says. "For this reason, coupled with our commitment to exit the Airbus A320 fleet on an accelerated timeline, as well as persistent high oil prices, we have reduced our planned capacity growth modestly as compared to previous expectations."
"We continue to expect full-year 2022 adjusted pre-tax margins between 6% and 9%," the company adds.
Corporate travel is returning to pre-pandemic levels, with many companies asking employees to return to offices, and sending them on business trips.
"What I have seen is a staggering increase in flying for the large tech companies" based on the West Coast, Harrison says. Corporate travel is now 30% less than pre-pandemic levels, he adds.
Last month, Alaska announced plans to accelerate its fleet renewal so that it and its partners operate only Boeing 737s and Embraer 175 regional jets by the end of 2023, while also converting a pair of its 737-800 passenger aircraft into freighters. The airline has been taking steps to align its narrowbody fleet around the Boeing 737, having added 737 Max commitments and dropped an order for 30 Airbus A320neos it inherited from its acquisition of Virgin America.
The bulk of Alaska's narrowbody fleet comprises 737-700/800/900s – Cirium fleets data shows it has 166 of those in service. Alaska also has 20 737 Max 9s (plus 77 Max on order), 40 A320-family aircraft and 19 of the Airbus narrowbodies in storage.
Regional carrier Horizon Air operates a mixed fleet of Embraer 175s and De Havilland Canada Dash 8-400 turboprops.
Alaska, like other US carriers, has been working to hire more pilots as the sector recovers from the pandemic. Minicucci says Alaska hopes to add 600 pilots to its ranks this year. So far, it's hired 300, placing "a huge strain" on the company's training system. That problem is unlikely to go away anytime soon, with the US industry anticipating hiring more than 10,000 pilots this year.
"This will be one of the biggest constraints for the industry going forward," says Minicucci of pilot availability.
"I feel good about our pilot pipeline, but is it a risk for our growth plan going forward? Definitely," he adds. "We are putting a ton of time and energy to make sure the pipeline is full."