Alaska Air Group reported a second-quarter 2023 profit of $240 million thanks to steady leisure travel and an "unprecedented surge in international demand" during the three months ending in June.
For comparison, the company reported a $139 million profit during the second quarter last year.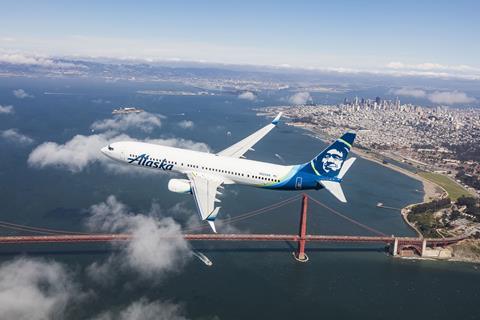 "Our solid second-quarter results reflect the strength of the leisure demand environment to date, as well as our team's unwavering commitment to operational excellence and reliability," Ben Minicucci, Alaska's chief executive, said on 25 July, the day Alaska released its results.
The Seattle-based airline company – which owns Alaska Airlines and regional carrier Horizon Air – generated $2.84 billion in second-quarter operating revenue, up 7% from $2.66 billion during the same quarter of 2022.
Alaska says its second-quarter revenue represents the "highest quarterly total in company history".
Though Alaska is primarily a domestic leisure carrier that operates a fleet of narrowbody jets, it has benefited from the resurgence of international travel as the Covid-19 pandemic has eased.
"Long-haul international seats on the West Coast are up 31% year over year this June," says Alaska's chief commercial officer Andrew Harrison during an earnings call. "We are filling the equivalent of 18 787s on a daily basis across our international partner network."
With new routes planned from Los Angeles to Nassau and Guatemala City, the carrier will fly to six countries from its West Coast hubs.
However, the West Coast "is still the least recovered geography across the industry", Harrison says. "There are still areas within our network, including Portland and California, that are not fully restored."
Alaska's second-quarter operating expenses stayed flat year on year, as the carrier's fuel costs were down 26% but it spent 18% more on wages and benefits.
Its capacity in available seat miles was 10% higher year-on-year, while it carried 5% more passengers than during the same period last year.
During the second quarter, Alaska received eight Boeing 737 Max 9s and now operates 53 of the type. The company also added six Embraer 175s to Horizon's fleet, which now has 39 of the regional jets in service.
Alaska still operates 10 Airbus A321s that it intends to retire by 30 September, leaving the carrier with an all-737 fleet. In the third quarter, the company expects "significant trainings costs" as it transitions about 400 pilots from Airbus to Boeing aircraft.
The carrier says Boeing has fulfilled its 737 Max delivery commitments in timely fashion in 2023, noting that "one or two units" due to be delivered in December might be pushed into January 2024.
Alaska becomes the latest major US carrier to report a second-quarter profit, following American Airlines turning a $1.34 billion profit, United Airlines checking in with a $1.08 billion profit and Delta Air Lines reporting a $1.83 billion profit.