Improved performance across all its carriers means Lufthansa expects all of its airline units to be profitable for the first time this year.
Lufthansa Group disclosed all its passenger airlines boosted their adjusted EBIT profit in third quarter compared with the same period last year. It means Lufthansa, Swiss, Austrian, Brussels Airlines and Eurowings are all profitable over the first nine months of the year.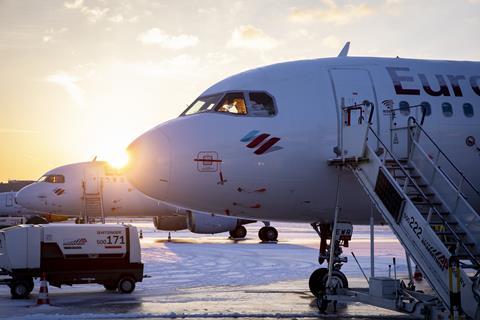 While Lufthansa Cargo barely broke even in the third quarter, amid what the group calls a "normalisation" of the air freight market, it too is profitable at the nine-month stage and Lufthansa sees the logistics unit making a positive contribution in the fourth quarter. The airline also notes cargo yields remain above pre-pandemic levels.
"For the first time all our airlines will end the year profitably," said Lufthansa Group chief executive Carsten Spohr during a third-quarter results briefing on 2 November.
While Lufthansa Cargo posted record profits in 2022, only Swiss and Austrian were in the black among its passenger airlines last year. And though in the years prior to the pandemic the group's network carriers and Lufthansa Cargo were profitable, its leisure unit Eurowings had been loss-making.
Lufthansa airline units by adjusted EBIT profit (Q3 2023)
Source: Lufthansa Q3 report
Airline
Q3 2023
Q3 2022
Lufthansa
€641m
€224m
Swiss International Air Lines
€327m
€234m
Eurowings
€181m
€101m
Austrian Airlines
€129m
€110m
Brussels Airlines
€71m
€52m
Lufthansa Cargo
€1n
€331m
TOTAL
€1,468m
€1,124m
Notably, amid continued strong leisure demand, Spohr highlights the importance of the restructured Eurowings business and its recently rebranded Discover Airlines unit.
"From an economic perspective we can look back at the best summer in our history, showing we have set the right strategic course in the past – more than 10 years ago – when we decided to complement our leading market position in corporate travel by significantly strengthening our private travel business," he says.
"And without that… successful realignment of Eurowings – which took us some years, but it has finally happened – and the recent establishment and expansion of Discover Airlines, with new destinations to popular markets around the world, I think we it's fair to say the group's summer would not have been as successful as we are able to present today."
While the airline is dealing with higher fuel costs, Lufthansa has retained its full-year guidance of a group adjusted EBIT of more than €2.6 billion ($2.8 billion). That compares with a €1.5 billion adjusted EBIT in 2022, driven largely by its cargo business.
The optimistic outlook reflects continued strong passenger demand.
"Again this summer season extends and extends," says Spohr. "October was as strong as the core summer months before. As is usual the performance in November and the first half of December will depend more heavily on business travel, which is not yet recovering as quickly or strongly as private travel.
"Bookings for the Christmas season also make us extremely confident," he adds. "Compared to the previous year, bookings for the fourth quarter are up by double-digit percentage and we have already collected around 80% of bookings expected for the fourth quarter.
"Therefore we are optimistic that we will be able to increase load factors and that yields will be roughly at the same high level as the same quarter of the previous year," he says.