Ultra low-cost carrier Allegiant Air's former chief executive Maurice Gallagher is back in the airline's top spot after his successor John Redmond resigned suddenly.
The Las Vegas-based company said on 28 September that the move is effective immediately. It does not give reasons for the unexpected management change.
Gallagher, who stepped down in June 2022 after more than 20 years at the helm of the airline, will remain chairman of the board of parent Allegiant Travel Company.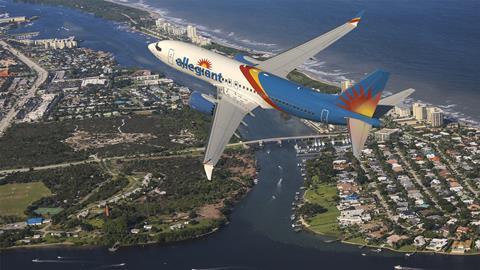 "We have built a management team headed by Greg Anderson, president, and many other talented and dedicated executives that is among the best in the industry," Gallagher says. "This team is well-positioned to lead the company as we continue to set the standard for the US leisure travel sector."
"I am grateful to the board for giving me the opportunity to be a part of this incredible organisation," Redmond adds. "I'm particularly proud of the Sunseeker team we've put in place, and I know they will carry the project over the finish line and establish the hotel as a premier destination in Southwest Florida."
In addition to its air operations, the company has expanded into other areas of the leisure and hospitality industry, including its Sunseeker Resort, scheduled to open later this year.
Gallagher says the Sunseeker project will be led by Micah Richins, who previously "operated some of the world's largest and most-successful integrated resorts, including MGM Grand, New York-New York and the Luxor".
Gallagher first became chief executive in 2003 and chairman in 2006. Under his leadership, the leisure airline grew rapidly. It now operates 120 Airbus narrowbody aircraft on 550 routes across more than 120 cities in the United States.
Allegiant said in August that its second-quarter 2023 profit rose to $88.5 million on revenue of $684 million.