Allegiant Travel Company, the parent of ultra-low-cost carrier Allegiant Air, turned a slim profit in the first three months of the year as the company prepares for a busy summer with a "bullish" outlook.
"Based on the data we are seeing, I can say, we are back," the company's chief executive Maury Gallagher tells analysts on the company's quarterly earnings results call on 4 May.
The Las Vegas-based carrier reports it earned $6.9 million in the first quarter of 2020, compared to a $33 million loss for the same quarter in 2020, just as the coronavirus pandemic was beginning to make itself felt around the world. In the fourth quarter of 2020, the company had reported a loss of $29 million.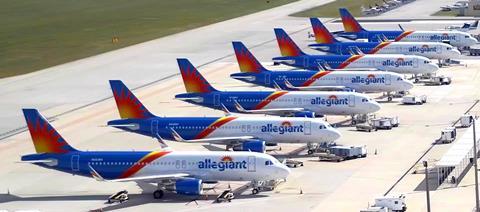 Revenue for the first three months of 2021 was $279 million, down 32% from the same quarter in 2020.
But signs of improvement and a sustainable recovery are mounting, executives say. Potential passengers are booking tickets in numbers that align with 2019 trends, and they are also planning further ahead with their air travel.
"The momentum reported last quarter picked up in earnest towards the back half of the first quarter with booking trends showing meaningful improvement," says Gallagher. "I could not be more bullish on our outlook. Going forward our full-year, 2021 capacity should exceed 2019 capacity levels."
In the first quarter of the year, capacity was 3.1% above that of pre-pandemic 2019, Gallagher adds.
"Booking trends have been particularly impressive with average daily bookings for the months of March and April exceeding the same time period in 2019," he says.
The booking curve – the amount of time between when a customer books a flight and the date of that travel – seems to be extending further into the future, meaning potential customers are more confident of plans they can make with more advance notice, Allegiant adds.
"April's results came in as strong as March helped by a ten-point increase in load factor from 54% to 64%. We expect capacity in the coming months will be equal to or greater than our 2019 levels," the company adds.
The carrier ended the quarter with 100 aircraft in its all-Airbus fleet, and expects to end the second quarter with five more. By the end of the year the airline will have 108 aircraft in its fleet, executives say. Allegiant will cut five 177-seat A320s from its fleet as it adds 13 of the higher-density 186-seat A320 aircraft.