Allegiant Air is railing against the US government's decision to suspend review of the airline's proposed joint venture with Mexican ultra-low-cost carrier (ULCC) Viva Aerobus.
In a 30 August filing with the US Department of Transportation (DOT), the Las Vegas-based carrier says, "By intervening on behalf of incumbent oligopolistic network carriers based on a speculative harm, the State Department and DOT are foreclosing entry that would improve service and lower prices".
"The proposed Allegiant-Viva [joint venture] would add new ULCC competition on many routes, offer new nonstop service from small to mid-sized US cities and create downward pricing pressure," the carrier continues.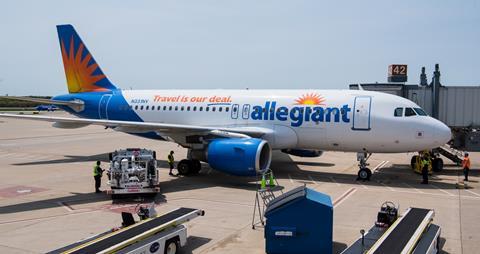 The filing includes a presentation shown during a 17 August meeting between Allegiant executives at the US Department of State. It outlines the carrier's case for a revived review of its long-planned joint venture with Monterrey-based Viva Aerobus.
The DOT disclosed on 31 July it had suspended its review of the discounters' proposed collaboration, citing capacity restrictions at Mexico City's Benito Juarez International airport. Mexican authorities have been attempting to force passenger airlines to move to the new Felipe Angeles International airport, which also serves the Mexico City region, and recently moved to reduce hourly departures from the country's largest airport.
"The department reviews applications for antitrust immunity to US carriers and their foreign partner carriers based on the complete implementation of a liberalised air transport agreement between the United States and the country of the partner carrier," DOT said at the time. "Recent actions undertaken by the government of Mexico affecting US carrier operations at Benito Juarez International airport call into question the existence of this predicate."
Allegiant's business model is based on operating direct flights between underserved cities. It notes that ULCCs historically have performed poorly in international markets, including on flights between Mexico and the USA, "which are dominated by legacy airlines" such as American Airlines, Delta Air Lines and United Airlines.
Under their proposed business cooperation, the carriers could operate more than 45 daily flights to 15 Mexican destinations, Allegiant says. The carriers would focus their partnership on routes to beach and leisure destinations in Mexico.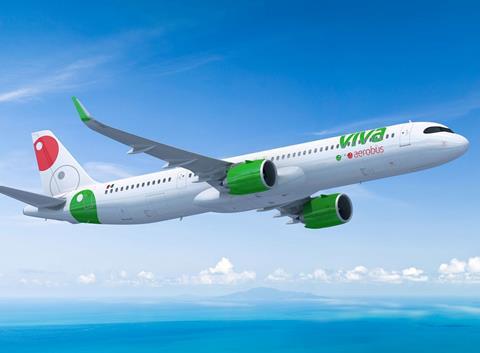 Most of the alliance's routes would serve Cancun International, Guadalajara International, Los Cabos International, Monterrey International and Puerto Vallarta International airports, Allegiant says, noting that only 6% of the routes would involve connections to Mexico City.
The carrier further cites "long-standing" policies under so-called Open Skies air treaties that allow for "effective competition on international routes".
The ULCCs announced their planned joint venture in December 2021, and their proposal was approved in October 2022 by Mexico's Federal Economic Competition Commission. The airlines originally planned to kick off the commercial collaboration in the first quarter of 2023.
Through the joint venture, customers would gain access to each airlines' respective loyalty programmes, sales systems and route networks to operate flights together, the airlines say. Allegiant would launch operations to Mexico for the first time, while Monterrey-headquartered Viva Aerobus would gain access to Allegiant's extensive network in the USA.
Allegiant would also make a $50 million investment in Viva Aerobus and gain a seat on the Mexican ULCC's board through the deal.