Allegiant Travel Company posted a $25.1 million loss during a third quarter that increasingly appears to have been a slow period for US low-cost carriers.
In the same three months last year, the parent of Las Vegas-based discount carrier Allegiant Air lost $46.5 million.
Third-quarter revenues stood at $565 million, the company said on 2 November, an increase of about 1% from $560 million last year. Expenses were down 1.4% compared with the same period of 2022.
Allegiant saw a "modest demand decline in September… as we officially entered the off-peak leisure travel season". Executives framed the slowdown as a return to historic "ebbs and flows" rather than an alarming new trend.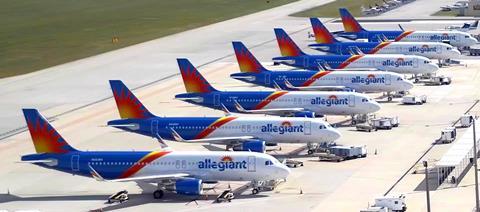 Frontier Airlines, JetBlue Airways and Spirit Airlines all recently reported third-quarter losses amid idling domestic demand and broad operational difficulties.
But Allegiant says it maintains an advantage over its competitors with its out-and-back routes and flexible capacity strategy, boasting a 99.8% controllable completion factor during the third quarter.
"Our variable-cost model gives us a competitive advantage as we adjust capacity to the environment," says president Greg Anderson. "Whether day of week, month of year, or route-by-route, our planning teams are expertly matching capacity with leisure demand."
The carrier is doubling down on that strategy. As seasonal demand becomes "more normalised", Anderson says, Allegiant is taking a "measured approach to take utilisation higher during peak demand periods".
"For instance, average aircraft utilisation was 7h this summer," he says. "Increasing that by even one hour would drive roughly $50 million more in earnings."
Allegiant flew fewer passengers during the quarter, down to 4.29 million from 4.36 million passengers in the same period the previous year. Total network departures were down to 29,251 from 29,432, while block hour flying increased slightly.
In September, Allegiant brought back former chief executive Maurice Gallagher following the sudden resignation of his successor John Redmond. Gallagher stepped down in June 2022 after guiding the airline for more than two decades. He remains chairman of the board of Allegiant Travel Company.
Gallagher did not address Redmond's departure during the earnings call, saying, "It's good to be back."
The company is "all but done with the completion" of its long-delayed resort in Port Charlotte, Florida, which has been beset by soaring construction costs and hurricane-related damages. The resort is scheduled to open on 15 December.
During the earnings call, Allegiant disclosed that delivery of its first Boeing 737 Max aircraft has been pushed into early 2024, having previously expected it before year-end. Boeing recently trimmed its 737 delivery forecast for 2023.
Allegiant currently operates a fleet of 127 Airbus narrowbodies, and says it will benefit from mixed-fleet operations as it will be allowed to deploy "the right gauge aircraft, in the right market, at the right time".
The airline currently flies more than 550 routes to 125 cities throughout the USA.