Allegiant Travel Company, parent of Allegiant Air, reports making a profit of $88.5 million in the second quarter "in the face of high demand and operational complexity".
The airline company earned $4.4 million during the three months ending 30 June last year.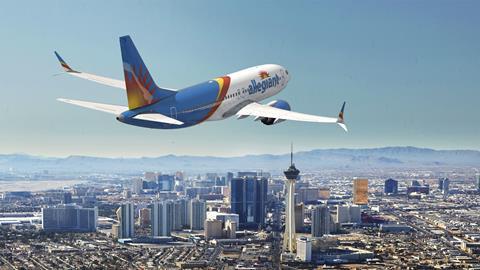 The Las Vegas-based ultra-low-cost carrier (ULCC) reported on 2 August that it generated $684 million of revenue in the second quarter, up 8.6% from $630 million in 2022.
"Our second quarter saw continued strong domestic leisure travel demand and capture that remain near our historic highs in 2020," Greg Anderson, Allegiant's chief financial officer, says during the company's quarterly earnings call.
Meanwhile, the carrier's costs were down 8.8% year-on-year, to $550 million from $604 million.
Allegiant reports a second-quarter controllable completion rate of 99.7%, which had dipped to 97% in June last year amid the chaotic 2022 summer travel season.
"This year's controllable completion rates being far above last year's level means we're keeping and recognising a much greater portion of book revenue year to date," Anderson says.
The airline is having difficulty with its planned expansion into Mexico, however, as the US Department of Transportation (DOT) recently suspended its review of a proposed joint venture between Allegiant and Mexico's Viva Aerobus.
Influenced by capacity restrictions at Mexico City's Benito Juarez International airport, the decision "does not affect the merits of our application", Anderson says, adding that "we have readied the areas within our control to be able to launch" if the deal is approved.
The transborder commercial collaboration between the two ULCCs has been repeatedly delayed since it was first disclosed in late 2021.
BOEING DELIVERY DELAYS
Allegiant reports that deliveries of its first two Boeing 737 Max aircraft have been delayed by about a month, pushing one delivery into 2024.
The carrier is still expecting to take its first Max jet at the end of 2023, and to begin operating the type early next year. "Our 2023 capacity plans are not impacted by this delay," says chief revenue officer Drew Wells.
Allegiant plans to grow its fleet to more than 200 aircraft over the next five years.
"There is an incredible amount of work being accomplished behind the scenes to strengthen our foundation to be able to support 200-plus aircraft," Anderson says.
In January 2022, Allegiant disclosed an order for 50 Boeing 737 Max, with options for a further 50 of the narrowbodies. Deliveries were due to begin in 2023, but the airline's plan to operate 127 aircraft by year's end does not include any Boeing jets.
Cirium fleets data show the carrier currently operating 92 Airbus A320s and 34 A319s, all between 10 and 20 years old.
"We haven't yet confirmed our retirement schedule on some of the A320s we expect to take out of the fleet, so that gives us a little bit of flexibility," Wells says regarding Boeing's delivery delays. "We want to gain some certainty around the Max delivery schedule."
Hawaiian Airlines recently reported that Boeing pushed delivery of its first of 12 787 Dreamliners into early 2024.
Allegiant also remains on track to open its long-delayed Sunseeker Resort in Port Charlotte, Florida, and is aiming to add 1,200 employees to run the resort. It expects third-quarter costs will increase about $15 million due to expenses related to opening Sunseeker.