Allegiant Travel Company, the parent of ultra-low-cost carrier Allegiant Air, is "flirting with break-even" as point-to-point leisure travel rebounds faster than other parts of the passenger air transport industry after it came to a near-standstill earlier this year.
The Las Vegas-based airline on 28 October reports a $29 million loss on $201 million revenue, down 54% year-on-year during the third quarter of 2020.
But as the quarter progressed, the airline was no longer burning cash like its peers, and saw up to $3 million in new bookings per day in both September and October, Allegiant's chief financial officer Greg Anderson says.
While average daily cash burn for the quarter was $1.3 million, September was "cash-flow positive for the airline", he adds.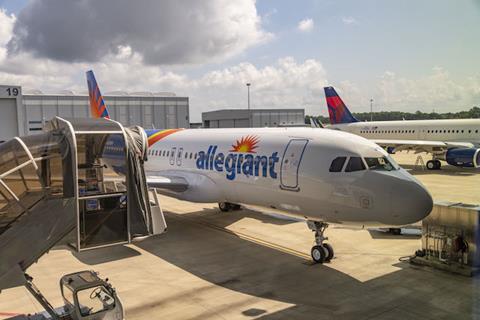 "We had a very good quarter," Maurice Gallagher, chairman chief executive of Allegiant Travel Company, says. "I'm happy to say that we can report some optimism."
"It appears the domestic leisure space will pull itself out of the pandemic in 2021," Gallagher says.
Following the collapse of passenger demand in March, "it was the end of our history as we know it", he adds. Except for the month of June "each consecutive month has improved since that time".
With customers unsure about potential travel restrictions along their journeys and at their destinations, many have migrated to airlines whose business model features non-stop flights, preferring those to connecting in a major hub airport where the risk of being exposed to the coronavirus is perceived to be greater.
Allegiant is known for connecting secondary cities to warm-weather vacation spots on non-competitive, point-to-point routes. Two of the cities in which it has the strongest presence are its home base of Las Vegas and Florida's Orlando – both of which experienced spikes in coronavirus infections during the summer vacation travel season.
But that seems to have largely passed, and passengers are returning to travel in larger numbers, despite rising coronavirus case counts in many parts of the USA.
"People want this exercise to be over, they are knowledgeable about the risks and judging their actions accordingly," Gallagher says.
Analysts have said low-cost and ultra-low-cost carriers like Allegiant are likely the first to experience some meaningful recovery from the global crisis in air travel, as they cater primarily to vacationers who are looking for little beyond safe transport. The airline's no-frills offering as well as a streamlined, all-Airbus fleet allows it to keep costs low in a business that often subsists on thin margins.
Pent-up travel demand following months of shelter-in-place orders and lockdowns are seemingly benefitting the company as potential customers begin to plan for the to the end-of-year holidays like Thanksgiving and Christmas.
As a result, Allegiant is profiting, while other carriers "have not yet found bottom", Gallagher adds.
The airline's load factor was 57.4% in September, the highest it has been since the beginning of the global health crisis in March, executives say.
Chief marketing officer Scott DeAngelo says that the company's booking statistics going forward are stable, and hovering at around 25-30% below that of the same period a year earlier.
In October, after government aid to support the airline industry expired, the carrier furloughed 100 pilots, and will be letting another 30 go by early November.