Allegiant Air and its technicians represented by the International Brotherhood of Teamsters have agreed a two-year contract extension.
The Las Vegas-based ultra-low-cost carrier (ULCC) said on 17 August that the deal extends the existing collective bargaining agreement for "line and heavy maintenance technicians as well as stores employees and some administrative maintenance staff".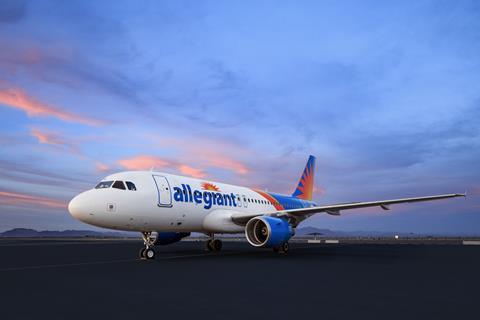 The deal was approved by 76% of the carrier's 683 maintenance workers, Allegiant says.
The union calls the deal "a significant victory for aviation technicians at Allegiant and throughout the industry", adding that it comes with "an average date of signing wage increase of more than 25%".
"Licensed airframe and powerplant technicians in the aviation industry have to uphold high safety and regulatory requirements to protect the flying public and flight crews," says Joe Ferreira, the Teamsters' airline director. "This increases is well justified when you consider their responsibility."
Allegiant notes that the negotiation process was "swift" and concluded three years before the current contract was set to become amendable. The collective bargaining agreement will next become amendable on 31 October 2028.
"We are so pleased to announce a ratified agreement with the [Teamsters] and our maintenance technicians and related employees more than three years before the current CBA becomes amendable," says Greg Anderson, Allegiant's president. "The expertise of our dedicated maintenance technicians and related work group is integral to the success of our operations."
In June, Allegiant agreed to 15.5%-40% pay raises for its flight attendants in a five-year contract with the Transport Workers Union, making the airline's cabin crew among the best paid in the USA's low-cost segment.
Allegiant reported on 2 August that it generated $684 million of revenue in the second quarter, up 8.6% from $630 million in 2022.
The ULCC turned a profit of $88.5 million on the quarter, compared with $4.4 million the previous year.