Allegiant Travel Company, the parent of Allegiant Air, reported a first-quarter loss as the coronavirus took its toll on leisure travel following shelter-in-place orders imposed across most of the USA.
That said, the Las Vegas-based ultra-low-cost carrier expects to halve its daily cash burn in the next two quarters as it reduces its fleet and implements other cost-saving measures while it and its peers wait for the public to begin flying again.
Allegiant is known for connecting secondary cities to warm-weather vacation spots on non-competitive, point-to-point routes. The airline says it is unrivalled in 80% of its markets.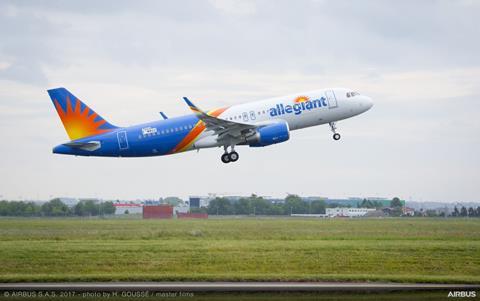 The carrier reported a $33 million loss in the quarter, down from $57.1 million during the same period last year. Revenue was $409.2 million, down 9.4% from the same quarter a year ago. But after watching demand decline through the first four months of the year, the airline says it is seeing "mild sequential improvement" in bookings for April.
"The events that have unfolded over the last eight weeks are truly unprecedented," says Maurice Gallagher, the company's chairman and chief executive, on the company's quarterly analyst call on 12 May. "They have dramatically altered the economic landscape."
"Near term is painful and will continue to be painful," Gallagher adds.
But executives say they expect leisure travelers, which make up the vast majority of Allegiant's customers, will return sooner than business and international travelers. This thinking is, business travel will likely take longer to recover as office workers have become accustomed in the past eight weeks to online meetings or video conferences in place of in-person events.
The airline has recently seen a bump in online queries, to about 750,000 per day, and executives add they anticipate hotels in two of the airline's prime destinations - Las Vegas and Orlando - to open in the next 30 to 45 days.
Allegiant expects to shrink its fleet by "as many as 25 aircraft" as a result of the pandemic. That is more than a quarter of the 91-strong fleet, according to Cirium fleets data. The airline operated 37 Airbus A319s and 54 A320 aircraft at the end of 2019.
"These aircraft, particularly the motors, will 'seed' our near and long-term ability to materially reduce planned engine overhauls, beginning in 2020 and for years thereafter," he adds. The airline has no "meaningful" purchase commitments in 2021 and beyond. Therefore, the company says it has enough liquidity, as well as a lower requirement for capital.
The carrier currently has a cash burn of $2.1 million per day, Gallagher says, but after taking measures to reduce its spending including halting non-aviation projects such as the construction of its Sunseeker resort in Florida, it expects that number to fall to $1.5 million per day in the third quarter. That number will decline further, to less than $1 million per day, in the last quarter of this year, Allegiant says.
"We are prepared to make tough choices and take any steps necessary to adapt and right-size our cost structure," Gallagher says. "I like our prospects because we are niche-y and can play in places other people can't or are not comfortable."
"The industry has to shrink after this but I am reasonably bullish," he adds. "I don't see any material weakness in the economy other than we are spending like drunken sailors."
CARES ACT SUPPORT
Allegiant qualified for government aid under the CARES act, a $2 trillion government financial assistance package passed by the US Congress in late March. In order to accept the aid, airlines had to agree to certain conditions including pledging to maintain minimum service to many of their destinations, keeping staff from furloughs, suspending share buyback plans and cutting executive pay.
Last month, the US Department of Transportation (DOT) said it would allow Allegiant to suspend service to 10 airports in its network as a condition of its federal payroll support, because its business model is more akin to an on-demand charter carrier than a scheduled passenger carrier.
Allegiant Travel Company will receive $172 million in payroll support from the CARES Act to fund salaries and benefits for its 4,500 employees. The carrier says today that it has already received $86 million of that, with the remainder to be paid in installments. The company will also receive $100 million in federal income tax refunds during the second quarter of 2020. Another $100 million could come next year, the airline adds.