Pilot union Air Line Pilots Association, International (ALPA) has called on the US government to help diversify the pilot ranks by making it easier for under-represented groups such as women and minorities to access flight training.
The group says on 8 April that it believes there are critical areas that the government can "break down barriers to foster a more-diverse and inclusive aviation workforce".
Currently, more than 90% of certificated commercial airline cockpit crew in the USA are white men, and the industry continues to struggle to find qualified female candidates and people of colour enter the field.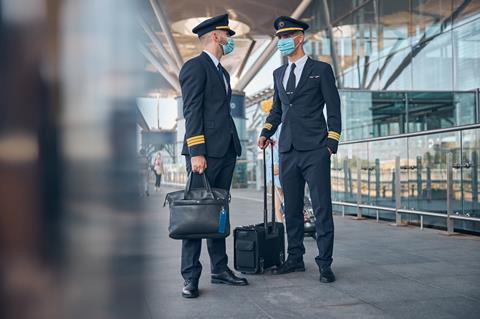 "As we work to expand and diversify our industry's highly skilled, trained and experienced pilot workforce, ALPA is also committed to furthering the dignity of work by insisting on an inclusive workplace for aviation employees irrespective of race, gender, religion, national origin, sexual orientation or other diversity traits," says ALPA president Joe DePete.
The union's suggestions include additional scholarship, subsidised loans and loan cancellation programmes, in addition to federal support for institutions that help minorities and other under-represented candidates become airline pilots.
Currently, only about 5% of certificate holders are women, according to the FAA. About that same number are non-white.
Often the problem is a financial. Flight training is rigorous and expensive, and thus can lock out candidates lacking financial resources needed to see their training through.
Attaining enough flight experience to fly a commercial aircraft can take five to seven years. Candidates must pass numerous standardised FAA check rides and tests to acquire their certificates – the cost of which can hit $100,000 – and log 1,500h as pilot-in-command before qualifying for an airline job.
ALPA's push comes two days after Chicago-based United Airlines said it aims to train 5,000 pilots through its "Aviate" training programme in the next ten years, half of which will be women and people of colour. The carrier also will offer scholarships to potential candidates, up to $2.4 million this year.
Numerous commentators on social media expressed concern the airline will lower standards in order to fill a quota. Both female and male pilots said the plan would "devalue" the certificates they worked so hard to attain, and that safety would decline.
ALPA rejects those concerns, adding that the industry is committed to diversity without short-cuts.
"Some may argue that we should lower the safety bar to increase diversity, equity and inclusion in the piloting profession, but we reject this false choice," adds DePete. "ALPA believes we can – and must – do more as a nation to open the doors of opportunity for those currently under-represented in the piloting profession and maintain the highest safety standards in the world."