Jose Ricardo Botelho is welcoming record numbers of visitors to his first ALTA Airline Leaders Forum as executive director
Following ALTA's pandemic-related break in 2020, the organisation's annual Airline Leaders Forum has returned to Bogota this year with a bang.
A sold-out crowd of 350 high-ranking delegates from across the region and around the world have descended on Colombia's capital for the 24-26 October event, coming together for the first time in two years.
That includes more than 40 airline chief executives, scores of aviation experts, analysts, regulators and other government officials, as well as IATA director general Willie Walsh and FAA administrator Steve Dickson.
"We are so excited to welcome everyone back to ALTA," says Jose Ricardo Botelho, the organisation's executive director and chief executive. "We have record numbers of people coming and we have so much to celebrate.
"It's going to be an historic event," he adds.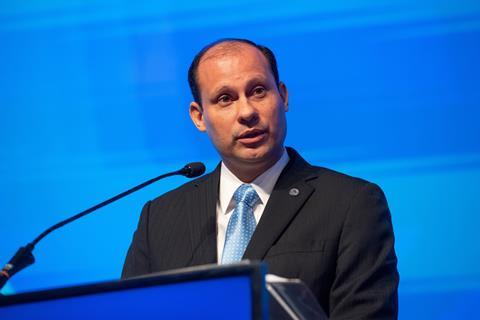 ALTA, originally called AITAL (International Association of Latin American Air Transport), was founded in Bogota in 1980 by 12 of the region's flag carriers. It had planned to hold its 40th anniversary event in the city last year, but travel restrictions in numerous Latin American and Caribbean countries made it impossible to hold the gathering, so it was postponed to 2021.
This year's Leaders Forum is the first with Botelho at the helm. He assumed ALTA's top job in June 2020, just weeks after the global health crisis had sent the air travel industry into a downward spiral.
Prior to arriving at ALTA, Botelho spent almost five years as director president of Brazil's aviation regulator ANAC. At ALTA he succeeded fellow Brazilian Luis Felipe de Oliveira, who had moved on to become director general of ACI World.
Now, more than a year later and hopefully leaving the worst behind, Botelho says the organisation and its members are ready to move forward into a new era.
In addition to numerous panel discussions, an exhibition area and networking opportunities, ALTA's annual leaders' conference is also hosting a gathering of regional airline associations from around the world. Airlines for America (A4A), Airlines for Europe (A4E), the African Airlines Association (AFRAA), the Arab Air Carriers Association (AACO), and the Association of Asia Pacific Airlines (AAPA), among others, are expected to attend.
"The idea here is to send a message globally that we need to resume normal operations," he says. "We have enough knowledge now to understand that aviation is not a vector of Covid contamination.
"We have more protocols than any other industry. We need to harmonise procedures, and let governments know how important that is. We deliver jobs, economic strength and life experiences, and it's time to resume that," he adds.
From ALTA's original 12 members, whose stated mission was to coordinate and solve air transport challenges in Latin American and the Caribbean, the organisation's membership has grown to almost 200 companies, across all parts of the industry.
SUPPLY CHAIN
About 85% of the region's commercial air traffic is represented through the association's airlines. But the rest of the industry's supply chain as well as other stakeholders including airframers, lessors, engine manufacturers, MROs, technology companies, jet fuel makers, consultancies and other suppliers of goods and services that operate in or to the region, have also found a home inside the non-profit group.
"ALTA is a tool for the Latin American industry to discuss issues that affect us locally, and to speak with one voice," the association chief says.
And as the world recovers from the Covid-19 pandemic – during which Latin America and the Caribbean lost more than 98% of its international tourists – it is more important than ever to make sure those local issues are addressed in a way that suits the region.
After a year-and-a-half of individual governments taking divergent paths on policies, right now what Latin America needs most is uniformity in rules and regulations, in order to animate potential passengers to return to international air travel in greater numbers.
"We need standardisation so that customers have the confidence to travel internationally," Botelho says.
He cites governments in Mexico, Colombia and Brazil as positive examples for the region. They refrained from harsh restrictions on movement during the pandemic, while others, including Argentina, did not.
Now, Argentina is signalling that it will soon join its northerly neighbours in moving towards a re-opening, which the region's air transport industry hopes will trigger a summer vacation wave in the coming months.
KEY DESTINATION
"The primary [travel] market for Brazilians is Argentina, the second is the US, the third is Europe. And during the pandemic, we couldn't travel anywhere – international flights went down to almost zero," Botelho says.
"For Brazilians, Argentina is close to home, it's a short flight, we know the people, and we like the food," he adds. "Now, Argentina is showing some signs that it will soon open and we believe that the demand is going to grow faster than before."
More generally, leisure travel is well on its way to reaching 2019 levels "in the middle of 2022" with corporate travel following behind, he says. While digital platforms helped to keep businesses connected during the crisis, Botelho says they are no match for the real thing.
"There's nothing like looking someone in the eyes, watching their body language, meeting them, and speaking to them face-to-face," he says.
And as air travel digs out of its crisis, Botelho says there are other, new challenges that the region's aviation industry must address.
The first is how to combat climate change with more sustainable solutions, including acquiring more modern aircraft, a massive increase in the production and use of sustainable aviation fuels and the development of technologies that will help operators reduce their carbon footprint.
The second is a rapidly increasing diversity of passengers.
For the first time in history, Botelho says, there are five distinct generations – Baby Boomers, Generation X, Generation Y, Millennials and Generation Z – looking for different experiences as they choose how and where to travel. Aviation's post-Covid normal must accommodate them all.
"They all have an interest to travel, but each in a different way," he says. "The industry has to be prepared for that, and grow with it."