Aviation executives from across Latin America and the Caribbean are meeting in Bogota for the ALTA Airline Leaders' Forum, as the region's air travel industry seeks to climb out of the coronavirus pandemic trough.
More than 350 attendees are expected at the event on 24-26 October, where topics for discussion include how the region's carriers can regain momentum they had when the last Leaders' Forum took place, two years ago.
"We have to send the right message," Jose Ricardo Botelho, ALTA executive director and chief executive, says at the opening press conference. "It's very important to give passengers confidence to travel, to achieve harmonisation of the [travel] rules. It's a difficult process but we see now that countries are open to discussing this."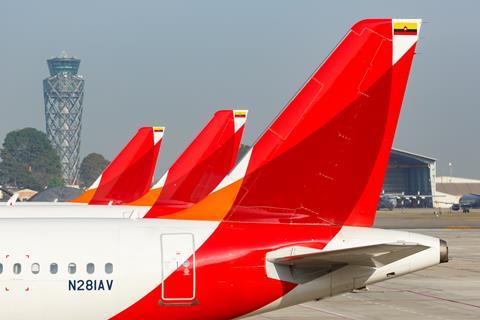 "The industry's overall success is based on the decisions made in every country," Botelho adds. "Often these decisions are based on fear, and that is going to impact the infrastructure and the population of not only that country but other countries as well."
Studies have proven that the risk of contracting the virus through air travel is exceedingly low, he says. "It's easier to be hit by [lightning]."
Some Latin American nations, like Colombia and Mexico, took a hands-off approach to controlling passenger entry during the past two years; others, like Argentina and Chile, imposed strict restrictions that almost completely choked off travel for months.
"We are learning how to live with the virus," adds Pedro Heilbron, chief executive of Panama City-based Copa Airlines and president of ALTA's executive committee. "Most travellers are vaccinated. What is lacking right now is agreement on something, and to not have different requirements in different countries."
Airlines are struggling to contend with a chequerboard of rules and restrictions, and often they pay the price in fines for minor transgressions on passenger arrivals, he adds.
IATA's statistics for August 2021 show that while Argentina's international traffic is still down a whopping 92% from 2019 levels, Mexico's is just down 16%. In the USA, that figure was 56%. Domestic travel in Mexico and the USA were 19% lower in August than in the same month in 2019, with Argentina showing a domestic decline of 68%, IATA says.
ALTA expects full domestic travel recovery in the region by 2023, and for international travel to return to previous levels in 2024.
The region's high costs – including for airport operations, fuel and taxes – and an industrywide push toward environmental sustainability will also be discussed in plenaries at this year's ALTA conference.