American Airlines has cancelled 2,291 flights since 29 October as inclement weather and staff shortages threw the airline's schedule into disarray.
The Fort Worth-based carrier said on 30 October that high winds at its Dallas-Fort Worth hub "sharply reduced arrival capacity by more than half", as runway capacity was also limited.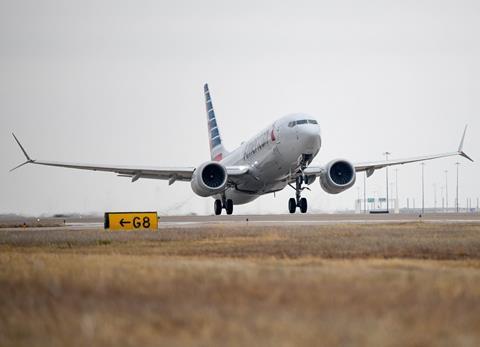 "With additional weather throughout the system, our staffing begins to run tight as crew members end up out of their regular flight sequences," wrote the airline's chief operations officer David Seymour in a note to staff. "To make sure we are taking care of our customers and providing scheduling certainty for our crews, we have adjusted our operation for the last few days this month by pro-actively cancelling some flights. We are taking this measure to minimise any inconvenience as much as possible."
The worst day for the carrier was 31 October, when it cancelled 1,060 flights.
"We expect considerable improvement beginning today with some residual impact from the weekend," the airline adds on 1 November.
Seymour says the airline has "nearly 1,800" flight attendants returning from leave on 1 November, with more returning in December, in addition to more than 600 new hires expected to join the company by the end of December.
"Additionally, hiring for our airports is well underway and we anticipate 4,000 new team members joining us across the system in the fourth quarter," Seymour said. "The hiring of pilots and within tech ops continues to take place, and we already began ramping up hiring in reservations so more team members will be in place for the holiday season."
In June, the carrier pre-emptively cancelled hundreds of summer flights, fearing it would have insufficient numbers of pilots and flight attendants.
At that time, the airline's pilot union, Allied Pilots Association (APA), said the carrier had furloughed 1,600 pilots when the first tranche of US government pandemic-related aid ran out last October. American offered thousands more pilots early retirement packages and six- to 12-month voluntary leave packages.
That left the airline with a significant shortage of trained and current cockpit crew, putting it in a squeeze when it started ramping operations early last year in response to increasing travel demand.
American is not the only US carrier to experience high-profile chaotic conditions due to weather issues coupled with tight staffing. Southwest Airlines and Spirit Airlines both had similar events in recent months.
In October, Southwest said inclement weather and unspecified "unexpected air traffic control issues" in Florida caused severe delays. The air traffic issues left the carrier's crew and aircraft out of place, stranding thousands of customers.
In August, ultra-low-cost carrier Spirit Airlines experienced an 11-day stretch during which it cancelled nearly 3,000 flights because of inclement weather and other factors. On the worst days in that period, Spirit cancelled half its flights. The disruption cost the carrier about $50 million.
Other carriers, including United Airlines and Allegiant Air, have also had challenges with staffing following the pandemic-driven decline in demand, and the faster-than expected rebound in domestic US travel demand.