The board of directors of the Allied Pilots Association (APA), the union representing flight deck crew at American Airlines, rejected a proposal to take next steps in joining the much larger and more-powerful Air Line Pilots Association, International (ALPA) union.
A two-thirds majority of board members was required for the proposal to move forward, but it only received 50% of the votes.
"After receiving a final report from the APA-ALPA Merger Exploratory Committee on its findings, the APA Board of Directors voted against creating a merger negotiations committee to negotiate the terms of a proposed APA-ALPA merger," APA said on 2 June.
A grass-roots group of American's pilots called "AA Pilots for ALPA", which had been lobbying for the merger, expressed disappointment with the decision.
It had surveyed APA members last year and found that 67% of respondents favoured "seeing what a merger between APA and ALPA looks like". Some 52% of responding pilots responded that they "strongly favour" the idea. About half of American's pilots, or 7,722 flight deck professionals, participated in the survey.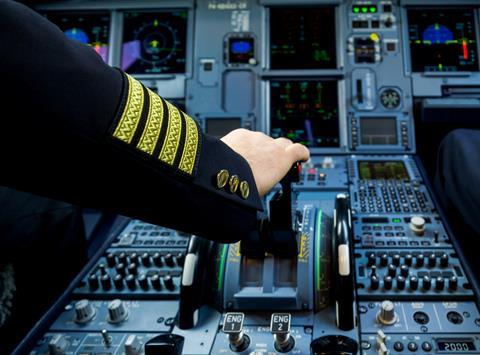 "We are disappointed by the APA BOD's decision to ignore 67% of the membership's desires and the unanimous recommendation of the APA-ALPA Merger Exploratory Committee to explore the framework of an APA-ALPA Merger Agreement," AA pilots for ALPA said on 2 June. "We will further review the exploratory committee's report and meet with our subject matter experts to determine our options in accordance with our current strategic plan," it adds.
ALPA did not immediately respond to a request for comment.
American's pilots left ALPA in 1963 over political differences with ALPA national leadership. The move to re-join came as airlines across the USA are facing pilot shortage issues and negotiating with flight deck crew on new contracts.
American's pilots reached an agreement-in-principle with the airline last month, which, the airline said at the time, "provides our pilots with pay and profit sharing that match the top of the industry, with improved quality-of-life provisions unique to American's pilots".
ALPA is the world's largest pilot union, representing 69,000 pilots at 40 US and Canadian airlines, including Delta Air Lines, United Airlines and numerous regional carriers. It too recently scored several contract victories for pilots including at Delta Air Lines, FedEx, WestJet, Spirit Airlines and Hawaiian Airlines.
Air Canada pilots, previously represented by the Air Canada Pilots Association (ACPA) in May voted overwhelmingly to join ALPA.