American Airlines is experiencing a dip in its recovery as fears of the coronavirus' more-virulent "Delta" variant are causing hesitancy among customers.
Vasu Raja, chief revenue officer at the Fort Worth-based carrier, tells an investor conference on 25 August that revenue is "trending below forecast".
The airline still expects to reach its financial targets for the third quarter, he says.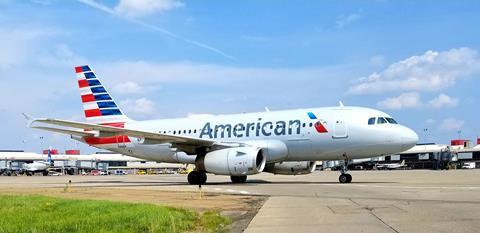 "Given the fluidity of the environment, we are not ready to make adjustments to [financial] guidance at this time," he adds.
The "Delta" variant, currently causing a majority of coronavirus infections across the USA, forced Southwest Airlines and Spirit Airlines earlier this month to lower their earnings forecasts. Frontier Airlines also said it expects the virus mutation to have a negative effect on earnings.
The all-important corporate segment of the market may also come back later than expected, due to the Covid-19 surge. Most US airlines had anticipated their leisure business would rise in the second quarter, because of the traditionally busy summer holiday travel season, and that corporate customers would return in greater numbers in September and October as children returned to school and offices reopened.
"We didn't anticipate that much change to business demand until we got to the fourth quarter," Raja says. "Everything was pointing in that direction. It certainly seems that with delayed returns to office those plans will be a lot more muted."
There is a "slower recovery in business demand than what we've seen, but there will still be a recovery in business demand", he adds.
The long-haul transatlantic recovery could be pushed out to as far as the first quarter of 2022, but in Asia "it's probably a longer horizon", he says.
Addressing the airline's operational issues earlier in the year – American cancelled hundreds of flights in July because it lacked sufficient flight crews – Raja says the airline has learned a lot during this period, and transitioned accordingly.
"There's a ton of our… processes, that were tuned well when the airline was built to a certain level of scale," he says. "But when, within a three- to six-month period, the airline is effectively doubling its size, that rate of growth is a very different thing."