American Airlines has come to an agreement-in-principle (AIP) on a new contract with its pilots, who are represented by union Allied Pilots Association (APA).
"We will move forward with completing contractual language for all sections and related letters and for the implementation schedule," APA said on 19 May. "Once that requirement is fulfilled, the negotiating committee will present the AIP to the APA board of directors for consideration as a proposed tentative agreement."
Fort Worth-based American says it is "pleased" to have reached an agreement on a four-year contract with its flight deck crew.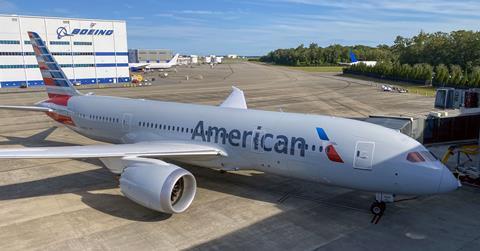 The deal "provides our pilots with pay and profit sharing that match the top of the industry, with improved quality-of-life provisions unique to American's pilots", the airline says.
Last month, American posted its first first-quarter profit in four years, as demand for air travel remains "dynamic". Revenue during the quarter jumped 37% year-on-year to $12.2 billion, and the airline finds itself "on our way to a fully recovered business", chief executive Robert Isom said at the time.
The airline is gearing up for a busy Northern Hemisphere summer travel season, when it expects to transport 52 million passengers on 469,461 flights, the carrier said on 17 May. During the upcoming Memorial Day long weekend – traditionally the first major travel weekend of the summer - it plans to operate 26,637 flights and accommodate an 2.9 million customers.