American Airlines has warned 25,000 employees that they may be out of a job when the USA's federally funded payroll support programme runs out on 1 October.
The list of affected workers across the company's operations includes almost 10,000 flight attendants, 2,500 pilots, more than 3,000 maintenance workers, as well as customer service and reservation agents, fleet service workers, dispatch employees, instructors and simulator engineers, airline leadership writes in a memo to all staff on 15 July.
"We hate taking this step…. we had a stated goal of avoiding furloughs because we believed demand for air travel would steadily rebound by Oct. 1 as the impact of Covid-19 dissipated," chief executive Doug Parker and airline president Robert Isom write in the note. "That unfortunately has not been the case."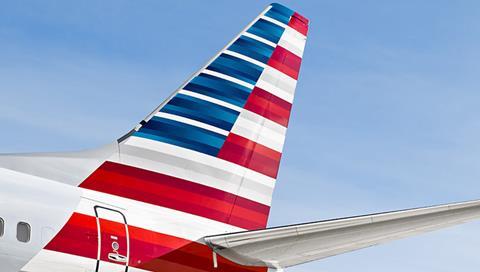 Earlier this year, American took $5.8 billion in payroll support through the US government's CARES Act to help boost liquidity as passenger demand fell to historic lows due the shelter-in-place orders and travel restrictions imposed to prevent the spread of the highly-communicable coronavirus.
As a condition for taking the aid, airlines agreed to refrain from involuntary layoffs until at least 30 September. With that deadline fast approaching, and as the global health crisis that sent air travel into an involuntary hibernation continues to drag on, the carriers are beginning to announce measures that will reduce their size by one third or more.
Under federal law, companies must notify employees at least 60 days prior to a pending mass layoff.
Just last week competitor United Airlines put 36,000 members of staff or 45% of its total work force on notice as well. The breakdown of potential furloughs at the Chicago-based airline includes: 15,000 flight attendants, 11,000 customer service and gate agents, 800 catering employees, 1,000 contact center employees, 225 network operations employees, 5,500 maintenance employees and 2,250 pilots.
Earlier this week, Atlanta-based Delta Air Lines said it was attempting to avoid involuntary furloughs after 17,000 employees had chosen to take early-exit packages.
American says that it had seen improvement in bookings and revenues from the lows it experienced earlier this year as pent-up demand for leisure travel began to show, even if business travel remained near zero. However, a recent rapid rise of the numbers of cases, hospitalizations and deaths from the virus, especailly in vacation states such as California, Florida and Arizona, have dampened customer confidence in returning to air travel.
In response to the surge, some parts of the country, such as Chicago and the region around New York City, introduced new quarantine orders in an attempt to contain the spread and avoid another wave of infections.
"Our passenger revenues in June, while we believe are better than others in the industry, were more than 80% lower than June 2019," Isom and Parker write. "And with infection rates increasing and several states reestablishing quarantine restrictions, demand for air travel is slowing again."
Prior to the coronaviurs pandemic, American had just over 130,000 employees in total. And like its peers, American has been offering its workers early exit and voluntary leave packages to try to keep the number of furloughs and layoffs down.
"We know American will be smaller going forward and we must right-size all aspects of our airline to adjust to that new reality," the airline's leaders write. "Although this is a day none of us wanted to see, we have created new, generous programs intended to help offset as many frontline furloughs as possible."
In late June, chief executive Parker had said that American's unionized workforce was "at least" 30% larger than the airline will need in the fourth quarter, and 15-20% larger than it expects to need a year from now. At the time he also said the airline may need to cut 1,500 to 1,600 pilot roles. Today's note shows that was a low estimate.
The union representing American's 15,000 pilots, the Allied Pilot Association, said earlier this week that about 800 pilots had alrady retired early and some 4,500 have taken temporary leaves, which come with partial pay. The potential layoffs announced today, though, will hit the group hard.
"It's brutal news," says Dennis Tajer, head of APA's communications committee on 15 July. "[It] seems with such cuts to pilots they'll be challenged to win any recovery and possibly squander capturing returning passenger revenue when we get on the other side of this crisis."