American Airlines and JetBlue Airways have begun to unwind their Northeast Alliance, two months after a court ruled it was anti-competitive.
The Fort Worth-based carrier said on 14 July it is nixing codeshares and eliminating reciprocal frequent flyer benefits and award bookings beginning at the end of next week.
"This is just the first step in the wind-down process that will take place over the coming months," American writes in a note to customers. "We will continue to work with the JetBlue team to ensure customers who have existing codeshare bookings can travel seamlessly without disruption to their travel plans."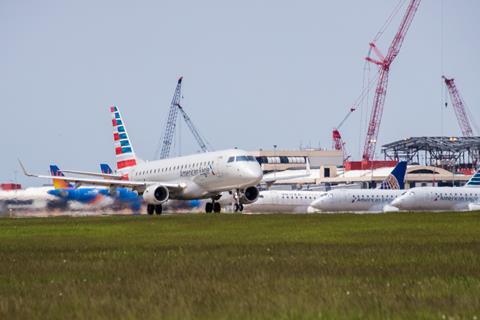 The airline maintains the alliance is "pro-competitive, pro-consumer", even though a US judge in May ruled it was not.
Earlier this week, American and JetBlue told the the US District Court for the District of Massachusetts that they will terminate the alliance on 29 July.
The US Department of Justice (DOJ) had sued American and JetBlue in September 2021 over the now-almost-four-year old collaboration, setting up a trial in Boston that started last year. In a 19 May ruling, a federal judge said the companies' cooperation in the Northeast USA - which they framed as an attempt to better compete with heavyweight Delta Air Lines – is unlawful and violates the Sherman Anti-Trust Act.
Rather than continuing to fight the case, JetBlue recently said it would unravel the NEA following the court order to dissolve the alliance, which US attorneys said was harmful to competition in the region.
American, however, vowed to continue fighting the court ruling, maintaining that the DOJ made "an erroneous judicial decision" and that the alliance has been "highly pro-competitive".
The agreement allowed American and JetBlue to intertwine operations at New York and Boston by sharing revenue, coordinating schedules, codesharing and offering reciprocal benefits to frequent flyers.
New York-based JetBlue now plans to focus instead on its proposed $3.8 billion acquisition of Spirit Airlines – the subject of a separate DOJ lawsuit set for another court trial in Boston starting 16 October. JetBlue hopes to close the deal in 2024.